Da es bei mir seit 3 Wochen wieder voll mit der Vorbereitung losgegangen ist und ich nicht nur einmal einen Muskelkater hatte bzw. völlig fertig vom Training war haha, habe ich mir gedacht ich verrate euch meine Regenerationsmaßnahmen die ich anwende, um mich so schnell wie möglich zu erholen.
Cool Down, Dehnen und Mobilisieren
Nach den meisten Trainingseinheiten folgt bei mir ein 10-15 minütiges Auslaufen. Ganz locker, um so schnell wie möglich aktiv das Laktat aus den Beinen zu bekommen. Gerade nach harten Belastungen, wo auch eine Menge Laktat produziert wird ist das wichtig. Beim Dehnen gehen die Meinungen oft auseinander. Mir persönlich hilft es wenn ich nach Belastungen noch einmal kurz dynamisch dehne und Muskelgruppen, wo ich Verhärtungen oder Verspannungen spüre, aktiv mobilisiere.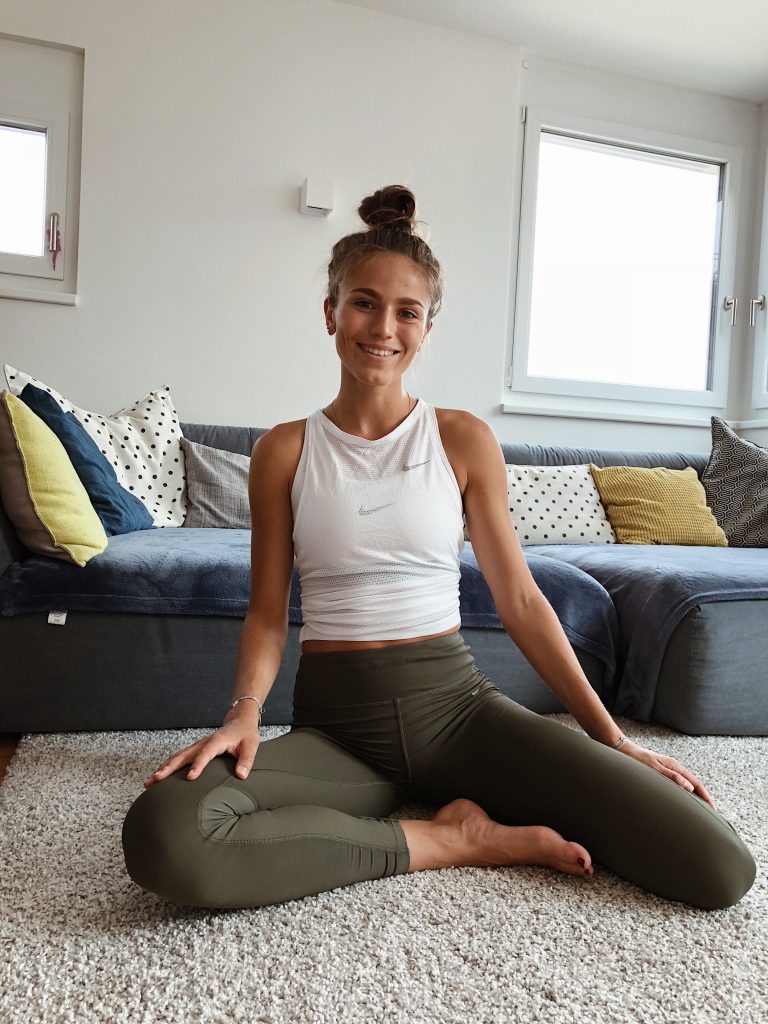 Essen nach dem Sport
Gerade nach harten und langen Trainingseinheiten versuchen ich eine nährstoffreiche Mahlzeit zu mir zu nehmen. In der Vorbereitung habe ich oft 2x pro Tag Training, sprich nach dem Training ist vor dem Training. 😛 Ich versuche Kohlenhydrate, Proteine und Vitamine in meinen Mahlzeiten abzudecken. Oft esse ich Nudeln/Kartoffeln/Reis oder Getreidesorten mit Gemüse und als Proteinquelle einen Fisch oder ein Ei (ein Stück Fleisch esse ich eher selten). So fülle ich meine Speicher wieder auf und hole mir gleichzeitig Energie für mein zweites Training.
Zusätzlich trinke ich auch manchmal Produkte von Ringana (während aber auch immer wieder nach dem Sport).
Ein anderes Post-Workout Rezept findet ihr hier.
Wechselduschen
Wenn sich schon ein Muskelkater bemerkbar macht, führe ich oft eine Wechseldusche durch. Ich habe in den vergangenen Wochen wieder vermehrt damit begonnen und ich merke, dass mir das richtig gut tut. Ich beginne mich mit heißem Wasser abzuduschen und wechsle dann zum kalten Wasser (manchmal auch nur auf den Beinen). Das wiederhole ich dann 3-4 Mal. Abschließen tue ich mit kaltem Wasser. Die Wechseldusche fördert die Durchblutung und stärkt das Immunsystem. Ich fühle mich danach einfach extrem wohl und "frisch" und die Beine fühlen sich für einen Moment zumindest besser an haha. Meiner Meinung nach unterstützt es meinen Regenerationsprozess. Einfach einmal selbst ausprobieren 🙂
Blackroll
Faszientraining. Eine Faszie ist das Gewebe das Organe, Muskeln, Knochen, Sehnen und Bänder umhüllt. Alles wird somit miteinander verbunden und fixiert. Die Blackroll, mein größter Feind haha. Wer schon einmal "gerollt" hat, weiß wovon ich spreche. Ich sollte es viel öfter machen als ich es jetzt tue. Verklebte Faszien können somit gelöst werden, die Durchblutung wird angeregt, die Elastizität verbessert und die Regenerationszeit somit beschleunigt. Lest euch einfach mal auf der Seite von Blackroll ein, dort findet ihr Infos und auch Übungsausführungen falls ihr damit noch nicht so vertraut seid.
Einen interessanten Artikel könnt ihr auch hier finden.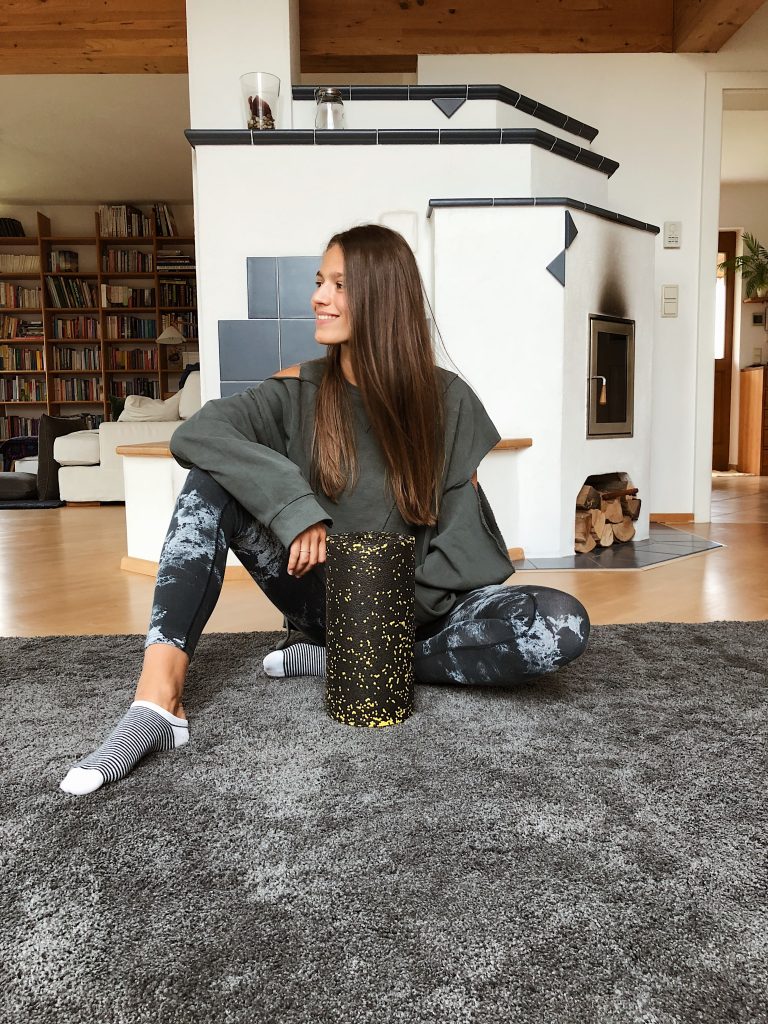 Compex und Compression Boots
Als sehr trainingsspezifische Regenerationsmaßnahmen haben wir uns vor ein paar Monaten uns ein Compex-Gerät und "Compression/Recovery Boots" zugelegt. Compex dient der Muskelstimulation. Am besten ihr schaut mal auf die Website, falls euch so etwas interessiert (Ich habe das Compex Fit 5.0). Compex finde ich auch super wenn sich kleine Verletzungen bemerkbar machen, dann kann man nämlich mit gezielter Muskelstimulation den Heilungsprozess beschleunigen. Durch die Kompression der Recovery Boots (ich habe die von Reboots) werden ebenfalls die Regenerationsphasen verkürzt.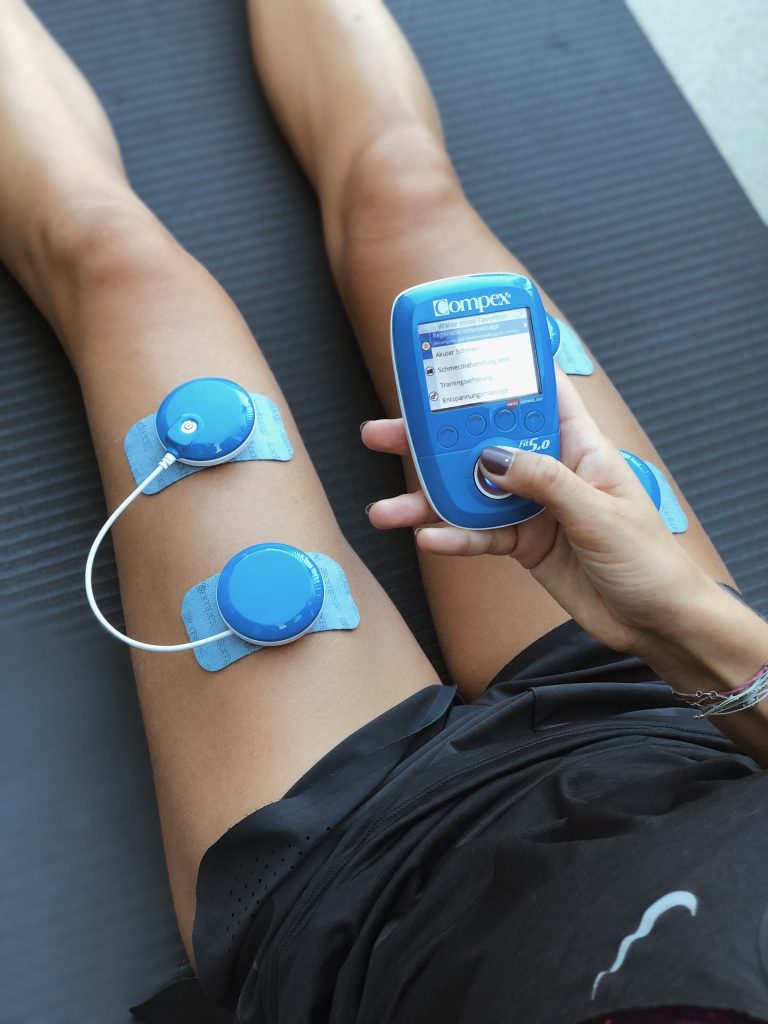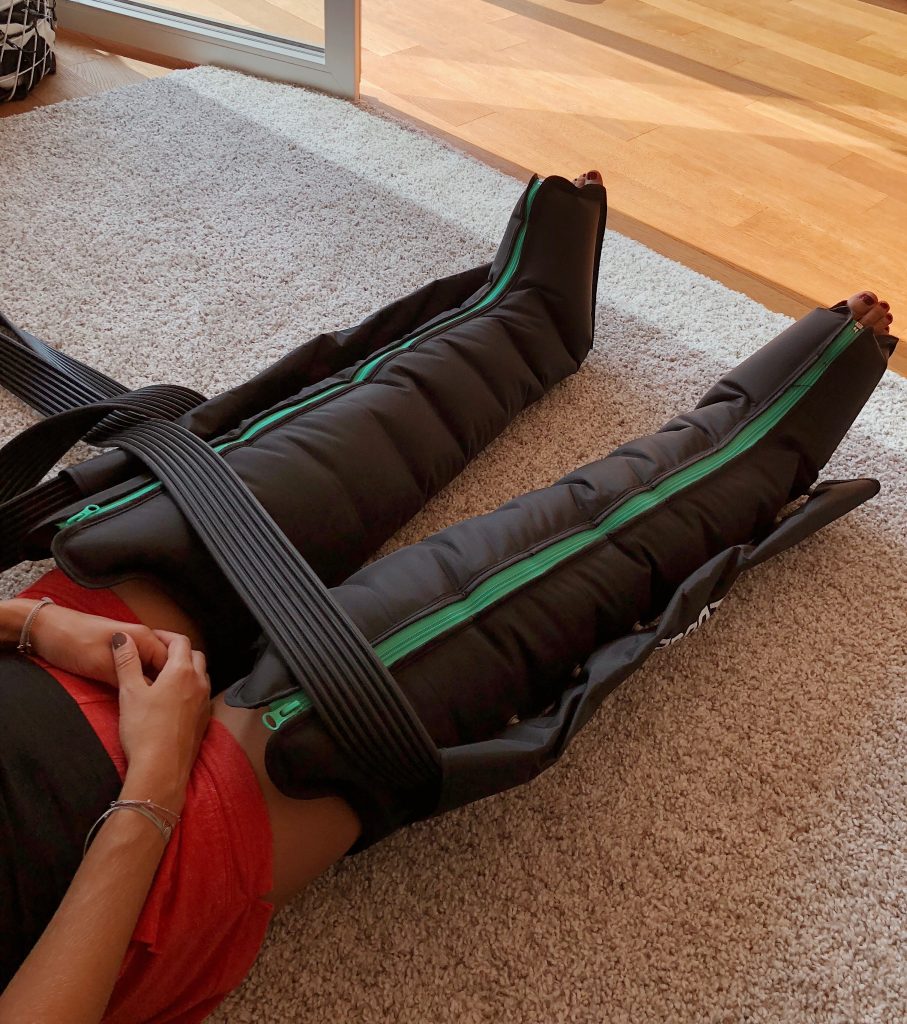 Nun auch noch Methoden die nicht ausschließlich für die sportliche Regeneration von Vorteil sind sondern auch im Alltag sehr hilfreich sein können.
Sauna, Infrarot und Dampfbad
Sauna, Infrarot-Kabinen oder Dampfbäder sind für mich für die Erholung auch sehr hilfreich. Einfach gut für Körper UND Seele. Man kann abschalten und sich entspannen. Ich persönlich bevorzuge Infarot-Kabinen. Alle drei Methoden machen bekanntlich recht müde, man schwitzt viel (deshalb ist es auch wichtig danach viel zu trinken) und die Muskeln können sich entspannen. Deswegen ist es von Vorteil nur auf diese Methoden zurückzugreifen wenn man den Tag aus sportlicher Sicht schon abgeschlossen hat.
Meditation
Letztes Semester hatte ich teilweise recht zeitintensive Kurse an der Uni und auch Kurse, welche meiner Meinung nach auch inhaltlich nicht besonders gut waren. Da ich ein recht energiegeladener Mensch bin und manchmal einfach nicht zur Ruhe komme und mich manche Dinge, die ich nicht verändern kann, irrsinnig aufregen habe ich mir gedacht ich probier's mal mit Meditation haha. Nein Spaß beiseite, ich wollte das schon länger ausprobieren und muss wirklich sagen, dass es mir extrem geholfen hat ausgeglichener zu sein. Ich finde die "Calm"- und "Head Space" App gut. 🙂
Auszeit
Ich versuche in einer stressigen Zeit trotzdem immer wieder etwas "me time" einzuplanen. Manchmal gelingt mir das gut, manchmal weniger. Ein heißes Bad nehmen, Freunde treffen, ein Buch lesen oder einmal etwas länger "offline" sein (das fällt mir recht schwer, weil ich wirklich sehr viel Zeit auf meinem Handy verbringe).
Und zu guter letzt, aber gerade für mich sehr wichtig der…
Schlaf
Schlaf, Schlaf und nochmals Schlaf! Ok, zu viel Schlaf kann auch dazu führen, dass man noch träger und müder wird haha. Aber ich denke die meisten von euch schlafen eher zu wenig als zu viel. Gerade in anstrengenden Trainings-, Arbeits-, oder Uniwochen kann Schlaf sehr viel helfen. Ein guter Schlafrythmus ist einfach essentiell um Leistung erbringen zu können. Natürlich gibt es Phasen im Leben, in denen man einfach weniger zur Ruhe kommt als sonst. Sei es das Kind, das einen wach hält 😛 , die bevorstehenden Prüfungen oder die Arbeit. In so einer stressigen Zeit merke ich, dass mein Körper einfach "funktioniert" und ich trotzdem die meisten Dinge meistern kann, weil ich eben einfach MUSS haha. Trotzdem versuche ich größtenteils einen geregelten Rhythmus beizubehalten. Jeder Mensch ist anders, ich benötige 7-8 Std. Schlaf um mich fit zu fühlen! Gerade in der Vorbereitung, wo die körperliche Belastung nochmals erhöht ist, merke ich schon, dass ich teilweise mehr Schlaf benötige.
Power-Naps lege ich nach Möglichkeit auch immer wieder ein, gerade nach anstrengenden Trainingsbelastungen merke ich immer wieder, dass ich ziemlich müde bin und da helfen mir kurze Naps recht gut (um ehrlich zu sein sind diese kurzen Schläfchen dann manchmal auch gar nicht so kurz haha, ups).
Die meisten "Regeneration für Sport und Alltag"-Tipps sind vielen von euch vielleicht ein Begriff, aber vielleicht ist die ein oder andere Methode ja dabei die ihr mal ausprobieren wollt. 🙂
Weitere Beiträge findet ihr hier: Motivation und "Wie beginne ich überhaupt mit dem Sport?"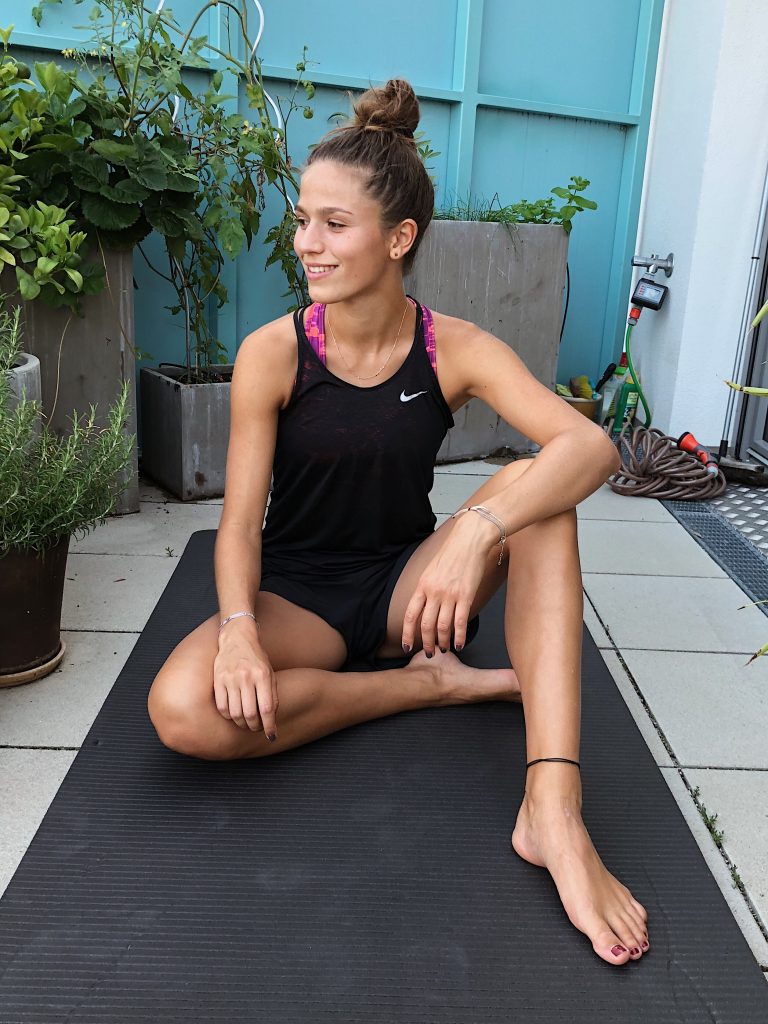 *Werbung weil Markennennung
*English*
Regeneration for sports and everyday life
Because it has been 3 weeks since I started again with the preparation and not one day passed by without sore muscles or a completely exhaustion from training haha, I thought I would tell you my regeneration measures I use to recover as quickly as possible.
Cool down, stretching and mobilizing
After most of the training sessions I have a 10-15 cool down run. Very relaxed, to get the lactate out of my legs as fast as possible. This is especially important after hard workouts, where a lot of lactate is produced. When stretching, opinions often differ. It helps me personally if I stretch dynamically for a short time after a hard training and actively mobilise muscle groups where I feel some tensions.
Post workout fuel
Especially after hard and long training sessions I try to eat a nutritious meal. In preparation I often have training twice a day, that means after the training is before the training 😛 I try to cover carbohydrates, proteins and vitamins in my meals. I often eat noodles/potatoes/rice or legumes with vegetables and a fish or egg as a source of protein (I rarely eat a piece of meat). This way I can refill and at the same time get energy for my second workout.
In addition, I take micronutrients like magnesium and I sometimes drink energy drinks or vegan protein shakes.
You can find another post-workout recipe here.
Hot and colds
If a sore muscle is already noticeable, I do hot and colds in the shower. In the past few weeks I have started to do this again more often and I notice that it really does me good. I start to shower with hot water and then change to cold water (sometimes only on my legs). Then I repeat this 3-4 times and finish with cold water. The alternating shower promotes the blood circulation and strengthens the immune system. Afterwards I simply feel extremely well and "fresh" and the legs feel better for a moment at least. In my opinion it supports my regeneration process. Just try it yourself 🙂
Blackroll
Fascia training. A fascia is the tissue that surrounds organs, muscles, bones, tendons and ligaments. Everything is thus connected and fixed together. The Blackroll, my greatest enemy haha. Anyone who has ever tried to "roll" it out knows what I am talking about. I should do it much more often than I do now. A bonded fascia can thus be loosened, the blood circulation is stimulated, the elasticity is improved and thus the regeneration time is accelerated. Just check out the website from Blackroll, there you will find information and exercises if you are not familiar with them yet.
You can also find an interesting article here.
Compex and compression boots
As very training-specific regeneration measures, we bought a Compex device and "Compression/Recovery Boots" a few months ago. Compex is used for muscle stimulation. If you are interested in something like this, you should have a look at the website (I have the Compex Fit 5.0). I also think Compex is great when small injuries become noticeable, because then you can accelerate the healing process with targeted muscle stimulation. By the compression of the recovery boots (I have those of reboots), the regeneration phases are also shortened.
Moreover there are also methods that are not only beneficial for sports regeneration but can also be very helpful in everyday life.
Sauna, infrared and steam bath
Sauna, infrared cabins or steam baths are also very helpful for me to relax. Simply good for body AND soul. You can switch off and relax. I personally prefer infrared cabins. All three methods are known to make you quite tired, you sweat a lot (therefore it is also important to drink a lot afterwards) and the muscles can relax. So it is advantageous to use these methods only if you have already finished the day from a sportive point of view and not do them before an important training.
Meditation
Last semester I had some very time-consuming courses at the university and also courses which in my opinion were not very good in terms of content. Because I am a very energetic person and sometimes I just can't calm down and I get very upset about things which I can't change, I thought I would try to meditate haha. No really, I wanted to try this for a long time and I really have to say that it has helped me a lot to be more balanced and calm. I like the "Calm" and "Head Space" app 🙂
Time out
In a stressful time, I try to plan in some "me time" from time to time. Actually you should make time every day for some relaxing moments. I know it is difficult when you are under pressure and extremely stressed and sometimes I manage to do it better and sometimes less. Take a hot bath, meet friends, meditate, do yoga, read a book or be "offline" a little longer (which is quite difficult for me because I really spend a lot of time on my mobile phone).
And last but not least, and especially for me very important, is…
Sleep
Sleep, sleep, and sleep again! Ok, too much sleep can also lead to you becoming slower and more tired haha. But I think most of you sleep too little rather than too much. Especially in exhausting training, work, or university weeks sleep can help a lot. A good sleep rhythm is simply essential to be able to perform. Of course, there are phases in life when you simply don't get enough rest as usual. Be it the child that keeps you awake 😛 , the upcoming exams or work. In such a stressful time I realize that my body simply "works" and I can still master most things because I simply HAVE TO do them. Nevertheless I try to keep a regular rhythm most of the time. Every person is different, I need 7-8 hours of sleep to feel fit and sane! Especially during the athletics preparation, where the physical strain on the body is increased, I notice that I sometimes need even more sleep.
I try to do power naps every now and then especially after hard training sessions I notice that I am quite tired and short naps help me quite well to deal with it (to be honest these short naps are sometimes not so short haha).
Most of the regeneration tips may be familiar to many of you, but maybe there is one or the other method you want to try out in order to improve your regeneration 🙂
You can find more contributions here about: Motivation and "How do I start with sports at all?"