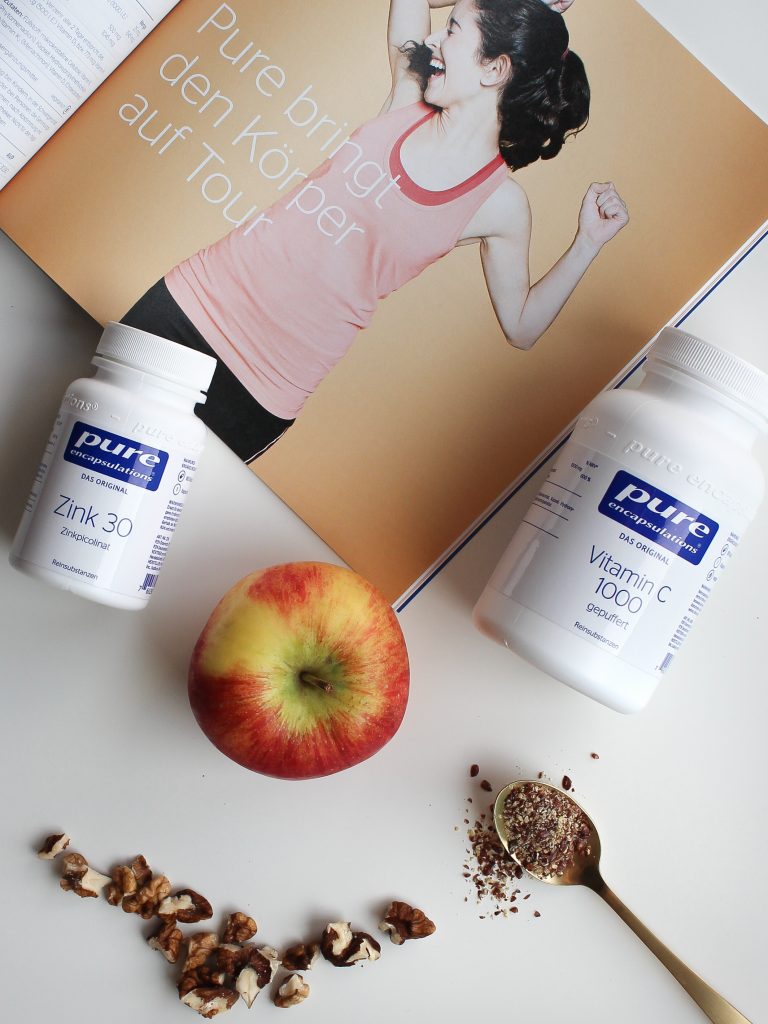 *Werbung/ in Kooperation mit Pure Encapsulations
Kalte Tage, lange Nächte, Wind, Regen und Kopfschmerzen. Das kennen wir doch alle, oder? Zurzeit ist das Wetter noch sehr unbeständig und beim Sport weiß man gar nicht so recht was man eigentlich anziehen soll.
Auch wenn dann endgültig die kalte Jahreszeit eingebrochen ist, ist es wichtig seinen Körper und das Immunsystem bestmöglich zu unterstützen um sich vor Erkältungen und Verletzungen zu schützen.
Das Immunsystem ist 24/7 im Einsatz und hat die Aufgabe körperfremde Substanzen wie Viren oder Bakterien den Kampf anzusagen und abzuwehren. Sprich, ein starkes Immunsystem ist essentiell um Höchstleistungen zu erbringen, sei es im Alltag, beim Sport oder in der Arbeit.
Gerade jetzt, wo die Tage kürzer werden und die Temperaturen sinken, ist das Immunsystem gefragter denn je. Einseitige Ernährung, wenig Bewegung, Stress, verregnete Tage und wenig Sonne können das Immunsystem aus dem Gleichgewicht bringen. Schnupfen, Halsschmerzen & Co sind nahezu vorprogrammiert.
Doch wie können wir unser Immunsystem im Winter stärken?
Tipps
Don't be moody, shake your booty
Beweg dich! Ja es ist kalt und ja es ist oft dunkel, aber tu es! Auch im Winter ist es so wichtig Sport zu machen um einfach einen Ausgleich zum alltäglichen Arbeits- oder Unileben zu haben. Wichtig dabei ist, dass du warm genug (aber nicht zu warm) angezogen ist. Je nach Training, Geschwindigkeit und Stehpausen solltet ihr eure Sportkleidung wählen. Wenn euch bei einem Dauerlauf zum Beispiel in den ersten 10min noch etwas kühl ist dann habt ihr genau das richtige an. Der Körper kommt erst nach ein paar Minuten auf Betriebstemperatur (hier habe ich etwas über Herbstbekleidung geschrieben)! Wichtig dabei ist, dass du danach möglichst schnell etwas Frisches anziehst oder noch besser gleich unter die Dusche hüpfst. Die frische, kühle Luft tut gut glaub mir! Wenn du noch den nötigen Motivations-Kick brauchst kann ich dir vielleicht mit diesem Motivations-Beitrag weiterhelfen.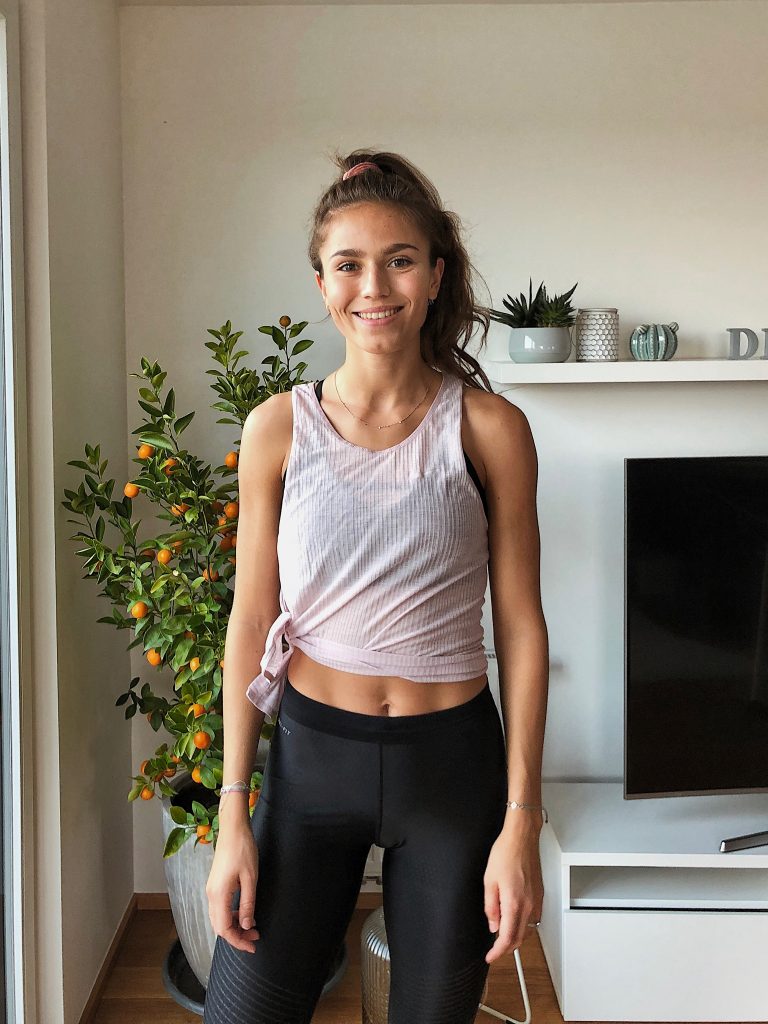 Ernähre dich abwechslungsreich und saisonal
Im Winter sind wir durch saisonales Obst und Gemüse in unserer Auswahl recht eingeschränkt und nehmen vielleicht nicht ganz so viele Vitamine und Nährstoffe zu uns wie wir sollten. Ich esse im Winter eigentlich immer etwas Warmes zum Frühstück. Der Körper wird von innen gewärmt und das Immunsystem unterstützt. Ein Kokos-Polenta Rezept und ein Dinkelgrieß Rezept habe ich schon einmal veröffentlicht. Richtige Booster im Winter sind zudem noch Wurzelgemüse und Gewürze wie Zimt, Kümmel, Ingwer (Vielleicht eine heiße Zitrone mit Ingwer und Zimt zum Frühstück anstelle des Kaffees?) und Curry.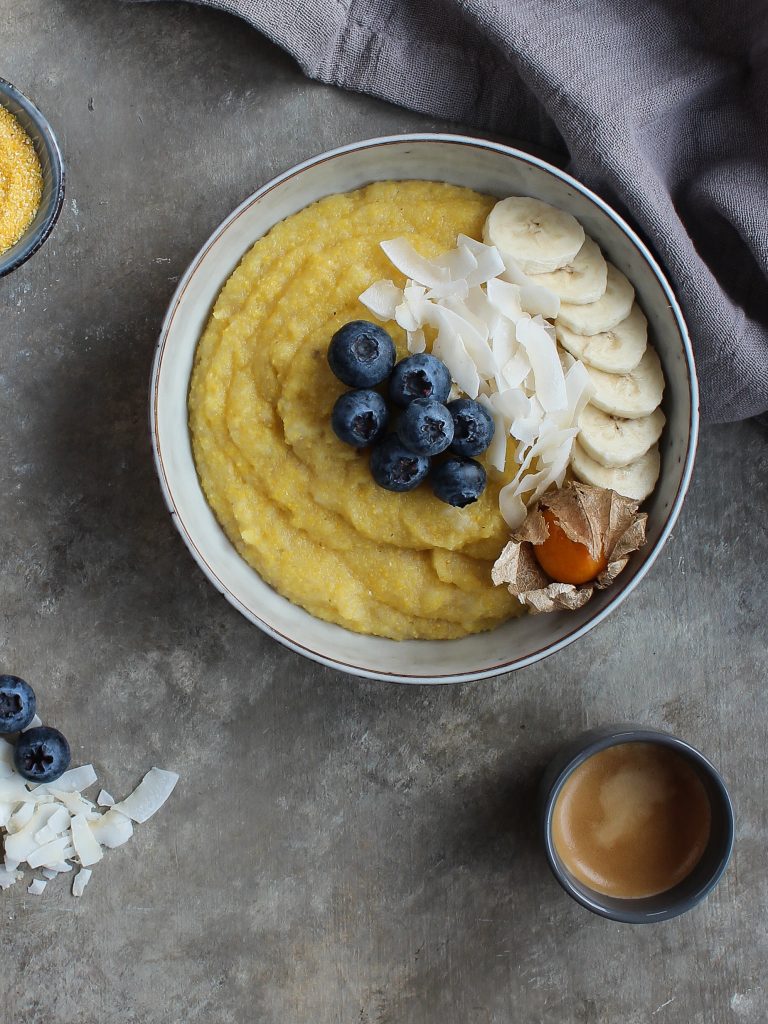 Mikronährstoffe
Auch wenn wir durch ganz einfache Methoden unserem Immunsystem unter die Arme greifen können, reicht eine gesunde und abwechslungsreiche Ernährung manchmal nicht aus. Hast du schon einmal daran gedacht zusätzlich Mikronährstoffe zu dir zu nehmen? Mikronährstoffe sind die nicht-energieliefernden-Stoffe. Dazu gehören zum Beispiel Vitamine, Spurenelemente und Mineralstoffe (Makronährstoffe sind Fette, Kohlenhydrate und Eiweiße).
Dazu sei gesagt, dass es wichtig und ratsam ist, den aktuellen Mikronährstoffstatus checken zu lassen bevor du wahllos Mikronährstoffe zusätzlich zu dir nimmst. Kein Körper ist ident und wo der eine nicht so gut versorgt ist, hat der andere vielleicht mehr als genug. Durch ein einfachen Bluttest beim Hausarzt kannst du das leicht herausfinden und dann deinem Körper die Mikronährstoffe zuführen, die er wirklich braucht. Ich mache ungefähr alle 6 Monate ein Blutbild. 🙂
Ich habe schon vor unserer Zusammenarbeit die Produkte von Pure Encapsulations verwendet, und bin von der Qualität wirklich sehr überzeugt. Die Mikronährstoffe sind hochwertig und es sind nur die reinsten Substanzen enthalten, sprich keine allergieauslösenden Zusatzstoffe (also keine Farb-und Geschmacksstoffe, Glucose, Fructose und Gluten).
Vitamin C
Vitamin C ist aktiv daran beteiligt, damit unser Immunsystem in Balance bleibt. Es unterstützt den Energiestoffwechsel und trägt so zur Verringerung von Müdigkeit und Ermüdung bei. In folgenden Nahrungsmitteln ist Vitamin C zum Beispiel vermehrt enthalten: Schwarze Johannisbeere, Zitrusfrüchten, Kiwi, Paprika (roh), Grünkohl (roh). Gerade im Winter könnte eine mangelhafte Versorgung Vitamin C problematisch sein.
Vitamin C unterstützt zudem die Eisenabsorption und ich nehme es teilweise auch, da ich immer wieder einmal nicht optimal mit Eisen versorgt bin habe.
Vitamin D
Das Sonnenvitamin! Unsere Haut produziert nämlich das Vitamin D durch die Einwirkung der Sonnenstrahlen auf unserer Haut. Im Winter sind die Tage kürzer, die Nächte länger und die Sonne steht tiefer, daher ist es in unseren Breiten zwischen Oktober und März gar nicht möglich genug Vitamin D selbst herzustellen. Durch die Ernährung ist die Aufnahme von Vitamin D zu gering, um einen gravierenden Unterschied zu leisten. Deshalb beginne ich meistens schon im Herbst zusätzlich Vitamin D zu mir zu nehmen. Nicht nur dem Immunsystem ist geholfen, auch der normale Knochenstoffwechsel und die Muskelfunktion werden unterstützt!
Ich nehme ungefähr von Oktober-Februar zusätzlich eine Vitamin D Kapsel von Pure Encapsulations pro Tag zu mir. Ich habe auch schon Vitamin D+K verwendet. Das ist einfach eine Kombination von den beiden und Vitamin K ist auch für den Knochstoffwechsel sehr wichtig.
Zink
Es ist nach Eisen das häufigste Spurenelement in unserem Körper und unterstützt unglaublich viele Funktionen unseres Organismus. Zink hilft beim Auf-und Abbau von Kohlenhydraten, Fetten und Eiweißen und schützt die Zellen vor oxidativem Stress. Zudem hat Zink für das Immunsystem eine große Bedeutung, denn es hilft dabei die normale Immunfunktion aufrechtzuerhalten. Zink kann aus tierischen Quellen (z.B.: Rindfleisch) und aus pflanzlichen Lebensmitteln wie Kürbiskernen, Mohn und Leinsamen aufgenommen werden.
Ich nehme Zink dann, wenn ich einen Mehrbedarf habe oder ich in der kalten Jahreszeit meinem Immunsystem etwas unter die Arme greifen möchte. Auch wenn sich eine Verkühlung leicht bemerkbar macht nehme ich Zink ein.
Pro-Tipp
Hast du schon einmal etwas vom Open Window Effekt gehört? Gerade im Leistungssport ist es essentiell so gesund und verletzungsfrei wie möglich durch die Wintervorbereitung und Wettkampfsaison zu kommen, um bestmögliche Leistungen erbringen zu können. Trainingsprozesse müssen optimiert werden und eine ausgewogene Ernährung reich an Vitalstoffen und die Regenerationsmaßnahmen stehen im Vordergrund!
Das Immunsystem kann da einem schon manchmal einen Strich durch die Rechnung ziehen. Unser Körper produziert in Stresssituationen verstärkt die für die Immunabwehr zuständigen Zellen. Wer kennt es nicht, dass sich am ersten urlaubsfreien Tag oder nach anstrengenden Trainingswochen eine Verkühlung bemerkbar macht? Gerade nach hoch intensiven Belastungen warten Krankheitserreger nur darauf durch das sogenannte "Open-Window" in unseren Körper zu gelangen. Je härter die Belastung war, desto ermüdeter ist unser Körper und die Infektanfälligkeit ist höher und länger.
Um dem entgegenzuwirken ist es wichtig sich nach dem Training in der Kälte so rasch wie möglich zu duschen oder etwas Frisches anzuziehen. Ergänzend ist es auch wichtig dem Körper genügend Mikronährstoffe (und gesunde Makronährstoffe) zuzuführen und sich abwechslungsreich und saisonal zu ernähren! Damit trotzen wir der kalten Jahreszeit!
*English*
How can I stay healthy and fit in winter?
*advertisement / in collaboration with Pure Encapsulations
Cold days, long nights, wind, rain and headaches. We all know that, don't we? At the moment the weather is still very unstable and when doing sports you don't really know what to wear.
Even when the cold season has finally arrived, it is important to support your body and your immune system in the best possible way to protect yourself from colds and injuries.
The immune system is 24/7 in use and has the task of fighting off substances such as viruses or bacteria. In other words, a strong immune system is essential for top performance, whether in everyday life, sports or work.
Especially now, when the days are getting shorter and temperatures are dropping, the immune system is more in demand than ever. A one-sided diet, little exercise, stress, rainy days and little sun can throw the immune system out of balance. Cold, sore throat & Co are almost pre-programmed.
But how can we strengthen our immune system in winter? I have put together a few tips which I pay special attention to in winter.
Don't be moody, shake your booty
Move it! Yes it is cold and yes it is often dark, but do it! Also in winter it is so important to do sports to have a balance to the daily work or university life. It is important that you are dressed warm enough (but not too warm). Depending on your training, speed and standing breaks you should choose your sportswear. If you are still a bit chilly in the first 10 minutes of an endurance run, then you are wearing the right clothes. The body reaches operating temperature after a few minutes (here I wrote something about autumn clothing)! It is important that you put on something fresh as soon as possible or even better jump under the shower right away. The fresh, cool air does you good, believe me! If you still need the necessary motivation kick make sure to read this motivation article.
Eat a varied and seasonal diet
In winter we are limited in our choice by seasonal fruits and vegetables and may not eat as many vitamins and nutrients as we should. I actually always eat something warm for breakfast in winter. The body is warmed from within and the immune system is supported. I have already published a coconut polenta recipe and a spelt semolina recipe. Real boosters in winter are also root vegetables and spices like cinnamon, curcumin, ginger (maybe a hot lemon with ginger and cinnamon for breakfast instead of coffee?) and curry.
Micronutrients
Even if we can help our immune system by very simple methods, a healthy and varied diet is sometimes not enough. Have you ever thought about taking additional micronutrients? Micronutrients are the non-energy producing substances. These include vitamins, trace elements and minerals (macronutrients are fats, carbohydrates and proteins).
It is important and advisable to have your current micronutrient status checked before you take micronutrients randomly. We all have different bodies and therefore different needs and where one is not so well supplied, the other may have more than enough. By doing a simple blood test you can easily find out and then give your body the micronutrients it really needs. I try to do a blood test about every 6 months 🙂
I have been using Pure Encapsulations products since before we started working together and I am really convinced of the quality. The micronutrients are of high quality and only the purest substances are used, i.e. no allergenic additives (i.e. no colourings, flavours, glucose, fructose or gluten).
Vitamin C
Vitamin C is actively involved in keeping our immune system in balance. It supports the energy metabolism and thus helps to reduce tiredness and fatigue. The following foods, for example, contain increased amounts of vitamin C: Black currant, citrus fruits, kiwi, paprika (raw) and kale (raw). Especially in winter an insufficient supply of vitamin C could be problematic.
Vitamin C also supports the absorption of iron and I take it on a regular basis, because I have always had an insufficient supply of iron. More about iron and why I take it you can read here.
Vitamin D
The sun vitamin! Our skin produces vitamin D by the action of sun rays on our skin. In winter, the days are shorter, the nights longer and the sun is lower, so it is not possible to produce enough vitamin D in our latitudes between October and March. Through diet, the intake of vitamin D is too low to make a significant difference. That is why I usually start taking additional vitamin D in autumn. Not only does this help the immune system, it also supports normal bone metabolism and muscle function!
I take one additional vitamin D capsule of Pure Encapsulations per day from about October-February. I also used vitamin D+K. This is simply a combination of the two micronutrients and vitamin K is also very important for the bone metabolism.
Zinc
After iron, it is the most common trace element in our body and supports an incredible number of functions of our organism. Zinc helps to build and break down carbohydrates, fats and proteins and protects the cells from oxidative stress. It is also very important for the immune system, as it helps to maintain a normal immune function. Zinc can be taken from animal sources (e.g.: beef) and from plant based foods such as pumpkin seeds, poppy seeds and flaxseeds.
I take zinc when I have an increased need or when I want to support my immune system during the cold season. I also take zinc in addition when I have a slight cold.
Special tip
Have you ever heard of the "Open Window Effect"? Especially in competitive sports it is essential to get through the winter preparation and competition season as healthy and injury-free as possible in order to be able to achieve the best possible performance. Training processes must be optimized and a balanced diet (rich in vital substances) and regeneration measures are in the foreground!
But the immune system can sometimes put a damper on this. In stressful situations, our body produces more cells that are responsible for the immune defence. Who does not know that on the first day of holiday or after some hard weeks of training, a cold is noticeable? Especially after highly intensive stress, pathogens are just waiting to enter our body through the so-called "open window". The harder the strain was, the more tired our body is and the probability to infections is higher and longer.
To avoid this, it is important to take a shower or put on something fresh as soon as possible after training in the cold. In addition, it is also important to supply the body with sufficient micronutrients (and healthy macronutrients) and to eat a varied and seasonal diet! This is how we defy the cold season and stay healthy and fit!