Trainings- und Gesundheitstipps um fit in den Sommer zu starten
*Werbung/ in Kooperation mit Pure Encapsulations
Ende Mai: Die Tage werden länger, die Sonne scheint und schon seit ein paar Wochen tausche ich meine Lauf-Tights gegen Shorts ein! Der Sommer steht bald vor der Tür, warum also nicht fit und voller Energie in die warme Jahreszeit starten?
Der perfekte Zeitpunkt um nochmal im Training nachzulegen! Ein paar Tipps zu unterschiedlichen Trainingsformen, Routinen und Gesundheit können dabei denk ich keinem schaden.
Wer jetzt noch immer nicht motiviert genug ist, sollte sich vielleicht zuerst meinen Motivations-Blogpost ansehen, um mit der richtigen Einstellung fit in den Sommer starten zu können.
Um aber dem Trainingsplan optimal nachgehen zu können, müssen natürliche gewissen Grundbedingungen gegeben sein.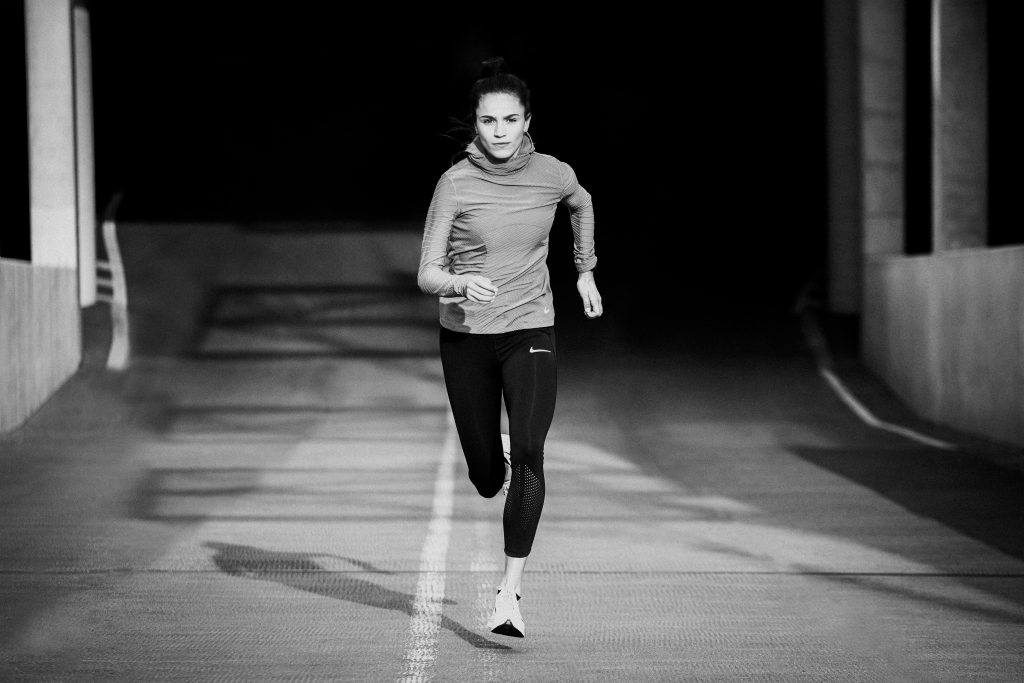 Neben dem abwechslungsreichen Training und den Routinen, auf welche ich später zurückkommen werde, ist es besonders wichtig auf seine Gesundheit zu achten. Der eigene Körper muss im Gleichgewicht stehen um bestmögliche Leistungen erzielen zu können.
Denn Training alleine reicht nicht aus, um 100% abrufen zu können. Regeneration, worüber ich hier schon einmal geschrieben habe, oder auch die Ernährung (über meine persönliche Ernährung könnt ihr hier mehr lesen) spielen eine entscheidende Rolle im Sport.
Zudem ist es entscheidend, dass der Körper bestmöglich mit Mikronährstoffen versorgt ist. Der "Treibstoff" unserer Leistung sozusagen! Je intensiver die Belastungen werden und je mehr trainiert wird, desto wichtiger ist es optimal abgestimmt zu sein. Mit Pure Encapsulations hatte ich schon einmal eine tolle Zusammenarbeit und einige hilfreiche Tipps zu Vitamin D& Co findet ihr hier.
Der Power-Booster Eisen
Gerade für uns Frauen spielt Eisen eine entscheidende Rolle. Eisen ist einerseits für das Immunsystems und den Energiestoffwechsel wichtig und spielt andererseits für Sportler gerade im Ausdauerbereich eine entscheidende Rolle. Denn es ist großteils für die Bildung von Hämoglobin (dem roten Blutfarbstoff) verantwortlich und damit am Transport sowie an der Speicherung von Sauerstoff beteiligt. Sprich, ohne genügend Eisen kann man seine Ausdauerfähigkeit nicht zu 100% ausschöpfen.
Doch Eisen ist keinesfalls nur für Leistungssportler von Bedeutung. Ein zu niedriger Eisenspeicher kann schnell zu Müdigkeit, Schlappheit und frühzeitiger Ermüdung führen. Also egal ob Hobbysportler, Leistungssportler oder Workaholic, wer aktiv ist sollte immer auch ein Auge auf seinen Eisenspiegel haben.
Ich mache nun seit ca. 15 Jahren Leistungssport und habe immer wieder mit einer suboptimalen Eisenversorgung zu kämpfen. Durch die hohen und intensiven Belastungen wird dem Körper so einiges abverlangt und dadurch wird auch eine größere Menge an Mikronährstoffen benötigt. Bei mir hat sich dieser Umstand durch ein unzufriedenstellendes Training oder eine erhöhte Müdigkeit bemerkbar gemacht.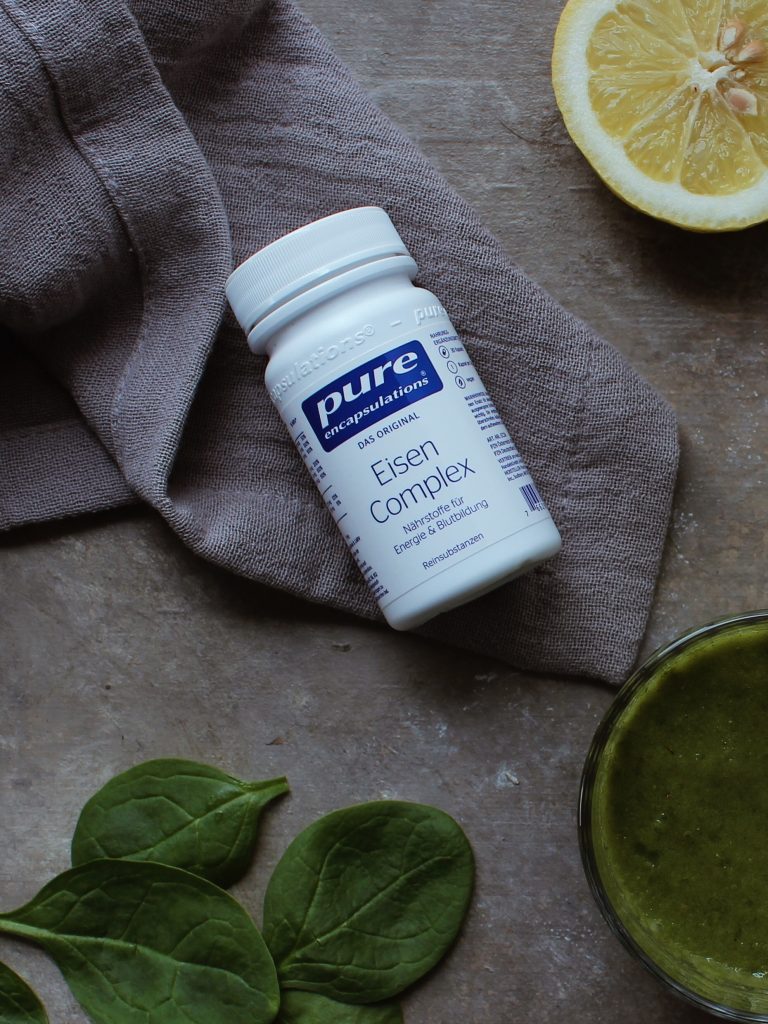 Wo ist Eisen enthalten und wieviel braucht mein Körper?
Besonders bei Ausdauersportlern, jungen Frauen und Personen im Wachstum ist der Eisenbedarf oft erhöht und auch Veganer und Vegetarier sollten auf eine ausreichende Versorgung achten. Auch durch die Menstruation entsteht bei uns Frauen ein erhöhter Eisenbedarf. Hier findet ihr einen tollen Artikel über "Menstruation und Sport". Frauen zwischen 19 und 50 Jahren sollten ca. 15 mg und Männer 10 mg Eisen pro Tag zu sich nehmen. Eisen kann von unserem Körper nicht selbst produziert werden und muss deshalb über die Nahrung aufgenommen werden.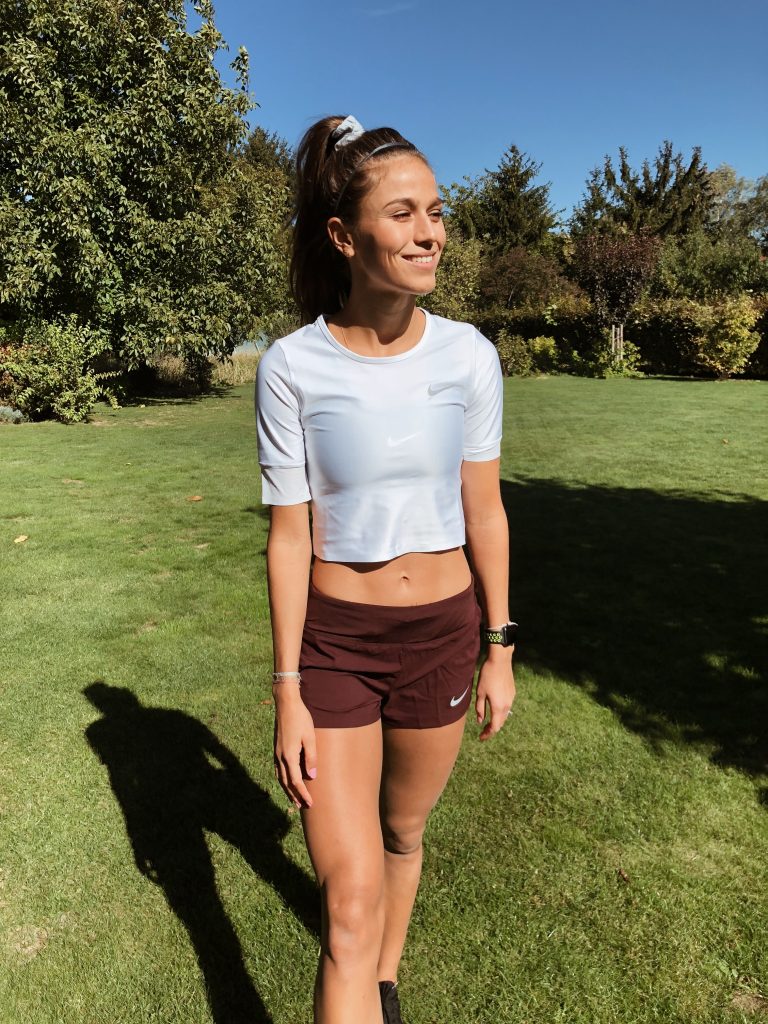 Eisen in Nahrungsmitteln
Der Mikronährstoff kommt vor allem in Fleisch und ausgewählten pflanzlichen Lebensmitteln vor. Zu den Eisenquellen zählen: Fleisch, Kürbiskerne, Weizenkleie, Haferflocken aber auch Linsen, Kichererbsen, Nüsse und ungeschältes Getreide enthalten viel Eisen. Eisen kann aus tierischen Produkten aber besser aufgenommen werden als aus rein pflanzlichen Lebensmitteln.
Trotzdem nehmen viele Menschen durch die Nahrung im Verhältnis zum Bedarf zu wenig Eisen zu sich – was für eine Supplementation von Eisen spricht!
Eisen fördernde und hemmende Nahrungsmittel
Es gibt auch Nahrungsmittel, welche die Eisenaufnahme zusätzlich fördern oder aber auch hemmen können. Ich nehme mein Eisen-Präparat meistens auf nüchternen Magen gleich in der Früh, wenn möglich mit einem Glas Zitronenwasser (Zitrusfrüchte fördern die Aufnahme), ein. Schwarztee, Kaffee und Milchprodukte sollte man gleich im Anschluss (oder auch kurz davor) vermeiden, da die Aufnahme dadurch gehemmt wird. Derzeit nehme ich am Abend noch eine zweite Kapsel ein.
Neben dem Eisen hat auch Vitamin B12 ähnliche Aufgaben wie Eisen, denn es spielt ebenfalls eine wichtige Rolle bei der Bildung roter Blutkörperchen und der Energiebereitstellung. Auf eine ausreichende Zufuhr von Eisen und Vitamin B12 sollte jedenfalls geachtet werden. Ich nehme derzeit ebenfalls B12 ein.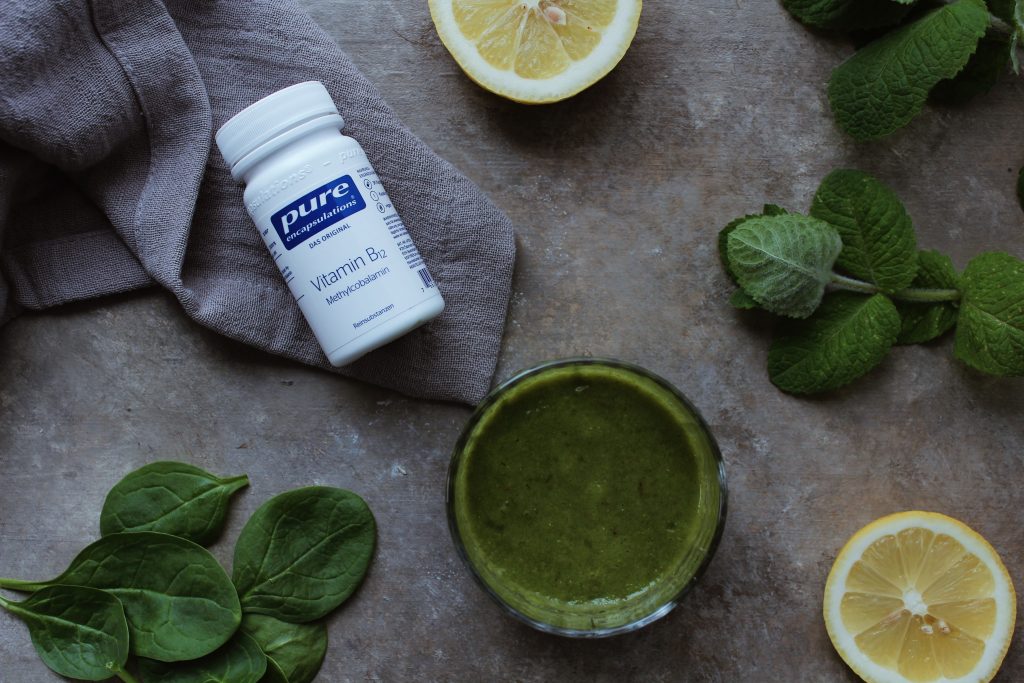 Blutbild
Bei mir sind sehr viele Faktoren ausschlaggebend um Höchstleistungen erbringen zu können. Deshalb versuche ich bei den Faktoren, die ich beeinflussen kann, sehr darauf zu achten, dass sich alles im "grünen Bereich" befindet. Genauso wie Physiotherapie gehört ein Blutbild einfach zu meinem Routine-Check. Ich lasse meine Werte ca. 3 Mal im Jahr checken. Basierend darauf steuere ich dann meine Ernährung und Mikronährstoff-Zufuhr.
Abwechslungsreiches Training
Für manche mag das vielleicht komisch klingen, aber das Training einer Läuferin (vor allem einer Mittelstrecklerin) ist sehr abwechslungsreich und ich gehe natürlich nicht jeden Tag die gleiche 10km Runde in Wien laufen.
Natürlich spielt das Lauftraining eine sehr wichtige Rolle, aber auch da gibt es ganz unterschiedliche Trainingsformen. Neben dem Laufen habe ich sehr oft Krafttraining, Koordiationstraining mit Technikübungen und Sprüngen und auch Alternativsportarten stehen auf dem Plan.
Meine Hauptdistanz sind die 800m und ich werde euch ein bisschen in meinen Trainingsalltag mitnehmen! Vielleicht ist ja der ein oder andere hilfreiche Tipp dabei, welcher etwas mehr Abwechslung in euer Training bringen kann.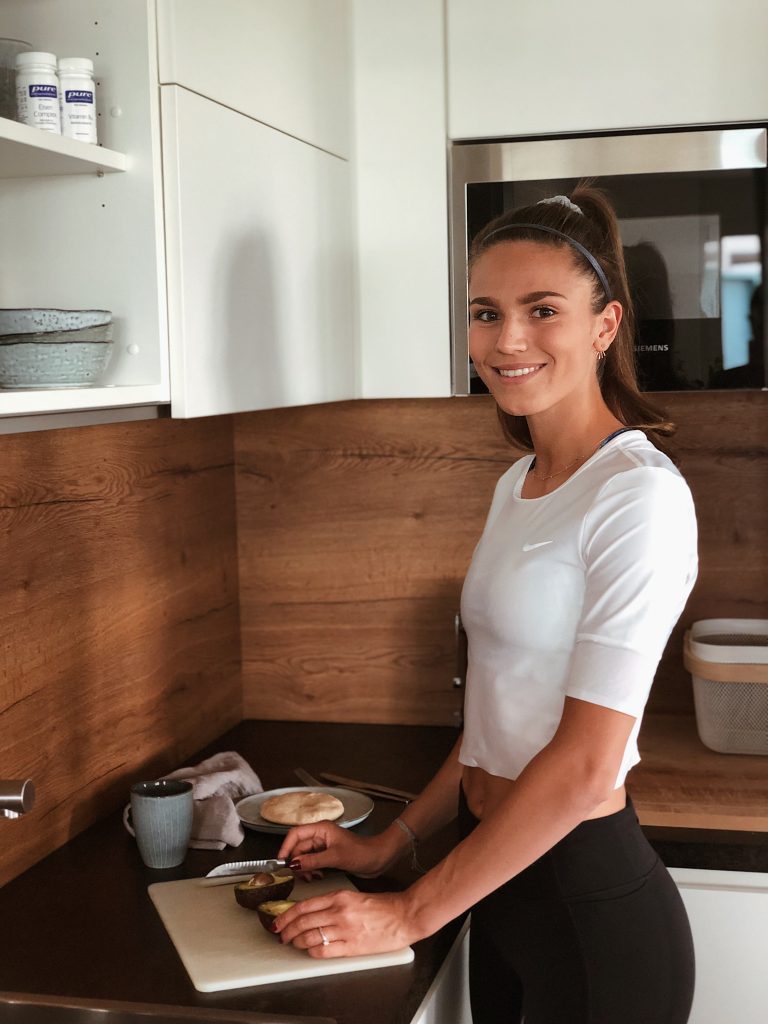 Lauftraining
Jeden Tag dieselbe 10km Runde im selben Tempo zu laufen wird doch auf Dauer etwas langweilig, oder? Für mich zumindest! Habt ihr schon einmal überlegt ein etwas abwechslungsreicheres Lauftraining in euer Programm zu integrieren?
Neben 800m spezifischen Trainings auf der Laufbahn, habe ich sehr viele Intervalltrainings. Je nach Fitnesszustand, könntet ihr doch mal 1000m-Intervalle ausprobieren. Ich habe gerade in der Vorbereitung oft 5-8x1000m Intervalle (mit halber Belastungszeit Pause). Zudem habe ich auch sehr viele 200m und 400m Intervalle.
Es kommt natürlich ganz darauf an wofür ihr trainiert und wie euer Fitness-Level aussieht aber zumindest wisst ihr, dass ihr auch mal ein Intervalltraining ausprobieren könnt, wenn euch das "Dauerlaufen" zu langweilig wird.
Zudem habe ich meistens einmal in der Woche einen 8-9km Lauf in einem flotten Tempo. Wenn der gut läuft und die Durchschnittspace auf der Uhr stimmt, macht es irrsinnig Spaß sich dabei auspowern zu können! Also probiert doch auch mal verschiedene Tempi bei euren Läufen aus. Definiert Geschwindigkeiten und steuert euer Training danach.
Habt ihr schon einmal vom Fahrtspiel gehört? Das ist ein Dauerlauf wo man mit dem Tempo "spielt". Zum Beispiel 1km locker, 3' flotter, 3km in einem mittleren Tempo usw. Je nach Tagesverfassung kann man den Lauf sehr gut steuern und er ist nicht so monoton wie ein "normaler" Dauerlauf.
Natürlich ist es auch wichtig im Grundlagenbereich zu trainieren oder mal einen ganz lockeren Lauf zu machen, um zu regenerieren, aber das Laufen kann sehr abwechslungsreich gestaltet werden.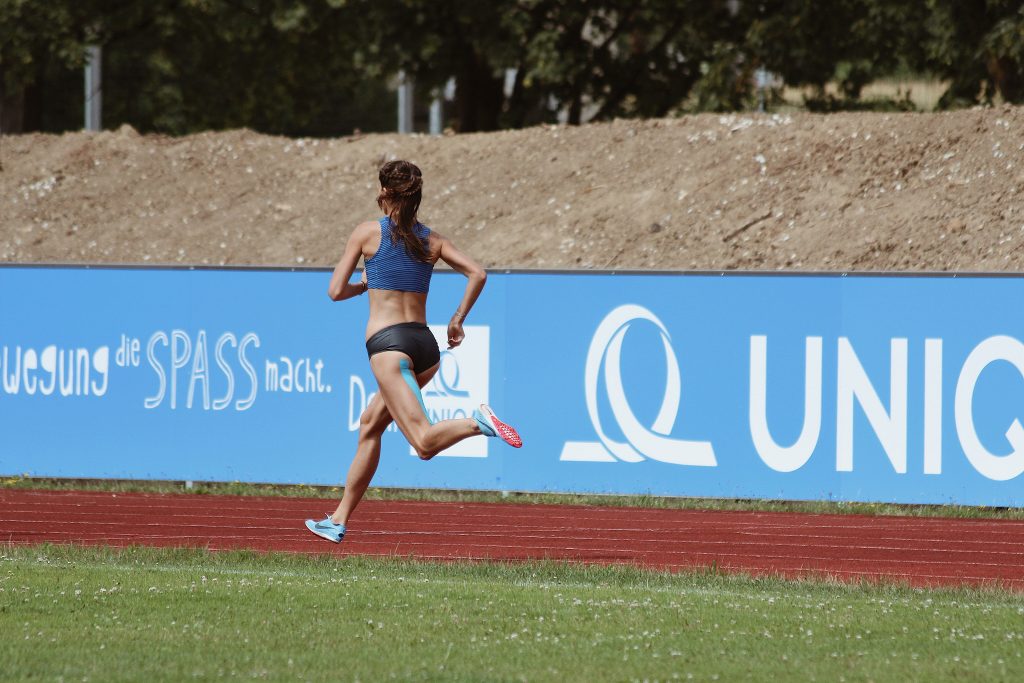 Krafttraining
Wer glaubt, dass man für die 800m "nur" laufen muss liegt falsch. 😛 Denn auch über hartes Krafttraining holt man sich den nötigen Speed und das Stehvermögen für die 2 Stadionrunden. Ich trainiere in der Vorbereitung 2 mal in der Woche mit Langhanteln. Einmal habe ich ein Kraftausdauer-Training und einmal ein Training mit höheren Lasten im Schnellkraftbereich. Mit Gewichten zu trainieren muss allerdings geübt sein. Wenn euch das interessiert, würde ich euch unbedingt empfehlen zuerst die richte Technik zu erlernen bevor ihr loslegt. In den meisten Fitnesscentern werden Personal Trainings angeboten.
Zusätzlich habe ich auch noch 2-4 mal die Woche Krafttraining mit dem eigenen Körpergewicht (10-20' Nettozeit pro Einheit).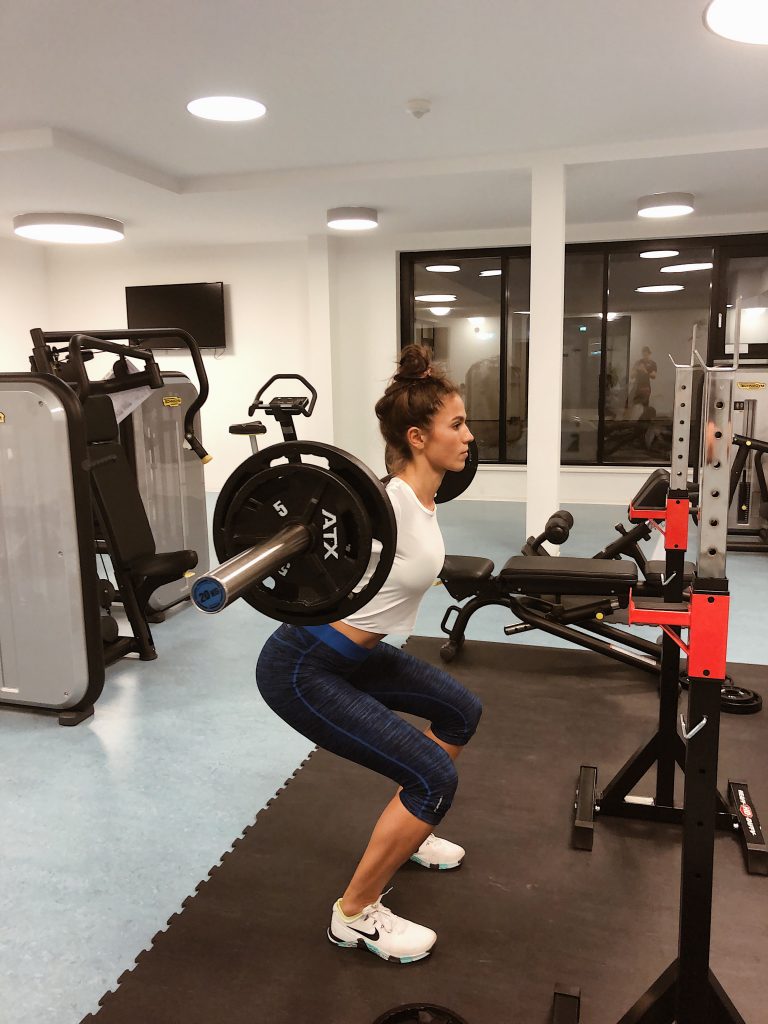 Krafttraining ist eine super Ergänzung zum Lauftraining und wenn man brav dran bleibt, kann man auch wirklich tolle Ergebnisse und Fortschritte erzielen. Durch Body Weight Trainings ohne Pausen hat zudem auch gleich einen Ausdauer-Effekt, da man ständig in einem erhöhten Pulsbereich trainiert.
Am besten ihr ladet euch eine Timer-App herunter, somit wisst ihr exakt wie effektiv ihr wirklich Kraftübungen gemacht habt. Oder ihr macht meine YouTube Videos, da ist ohnehin schon ein Timer dabei. 😛 Da zeige ich euch einige meiner Lieblingsübungen!
Alternativtraining
Gerade am Beginn der Vorbereitung habe ich noch einige Alternativtrainingseinheiten am Programm. Radfahren, Steppen oder auch Aquajoggen zählen zu meinen 3 Hauptalternativtrainings. Im Winter kommt dann auch noch manchmal das Langlaufen (Skaten) hinzu.
Gerade wenn man den Stützapparat schonen will oder auch leichter zu Verletzungen neigt, eignen sich Alternativsportarten sehr gut. Zudem macht so eine 2 stündige Radausfahrt am Wochenende mit Freunden Spaß und das Schwimmbecken kann wieder Schwung und Abwechslung in den Trainingsalltag bringen.
Routinen
Neben abwechslungsreichem Training spielen bestimmte Routinen aber auch eine entscheidende Rolle. Ich finde es immer sehr motivierend, wenn man gewisse Trainings von der einen Woche auf die nächste miteinander vergleichen kann und im besten Fall Fortschritte erkennen kann.
"Die 5x1000m liefen diesmal viel besser als noch vor 2 Wochen, oder diesmal konnte ich zum ersten Mal das Body-Weight-Training ohne Pause komplett durchziehen." Das gibt einem nochmals einen zusätzlichen Motivationsschub für die Zukunft!
Natürlich verändert man immer wieder mal etwas im Training und die Trainingsinhalte hängen auch von den verschiedenen Perioden (Vorbereitung- oder Wettkampfperiode) ab. Trotzdem gibt es aber fixe Trainings-Bausteine die ich schon seit Jahren trainiere und welche sich kaum verändern.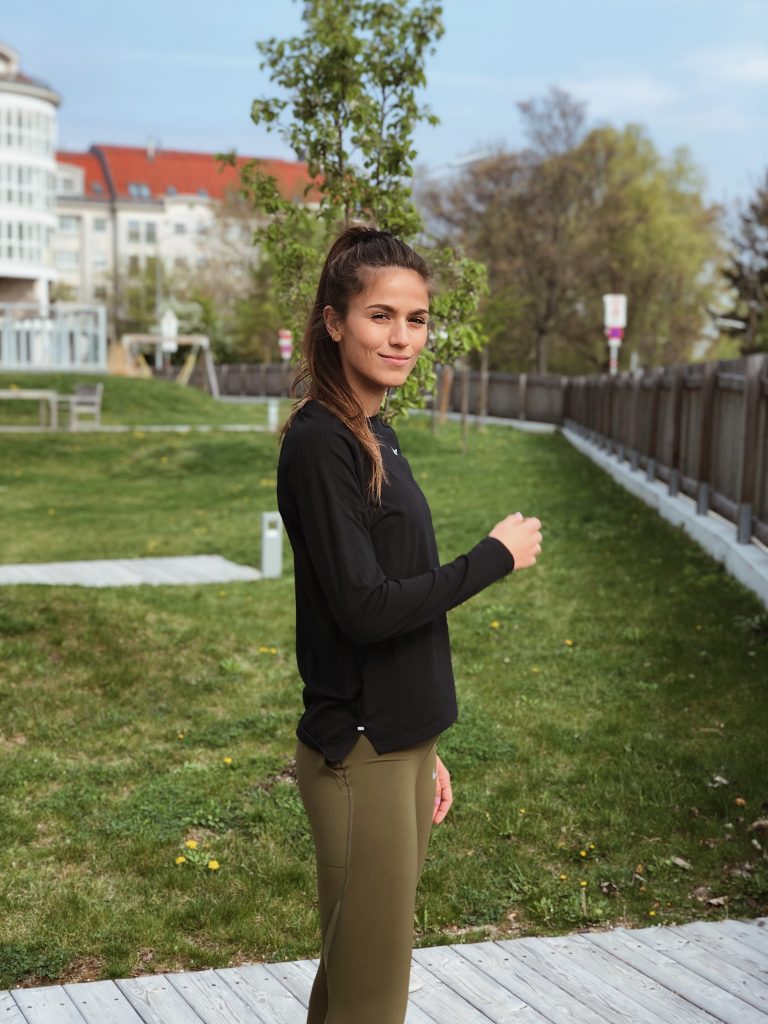 Fazit
Abschließend kann ich euch nur raten immer wieder einmal ein Auge auf eure Mikronährstoff-Speicher zu legen. Denn wer hoch motiviert seine sportlichen Ziele durch abwechslungsreiches Training und Routinen umsetzen will, dem sollten die "Treibstoffe" nicht ausgehen. Somit kann einen nichts aufhalten, um fit in den zu Sommer starten!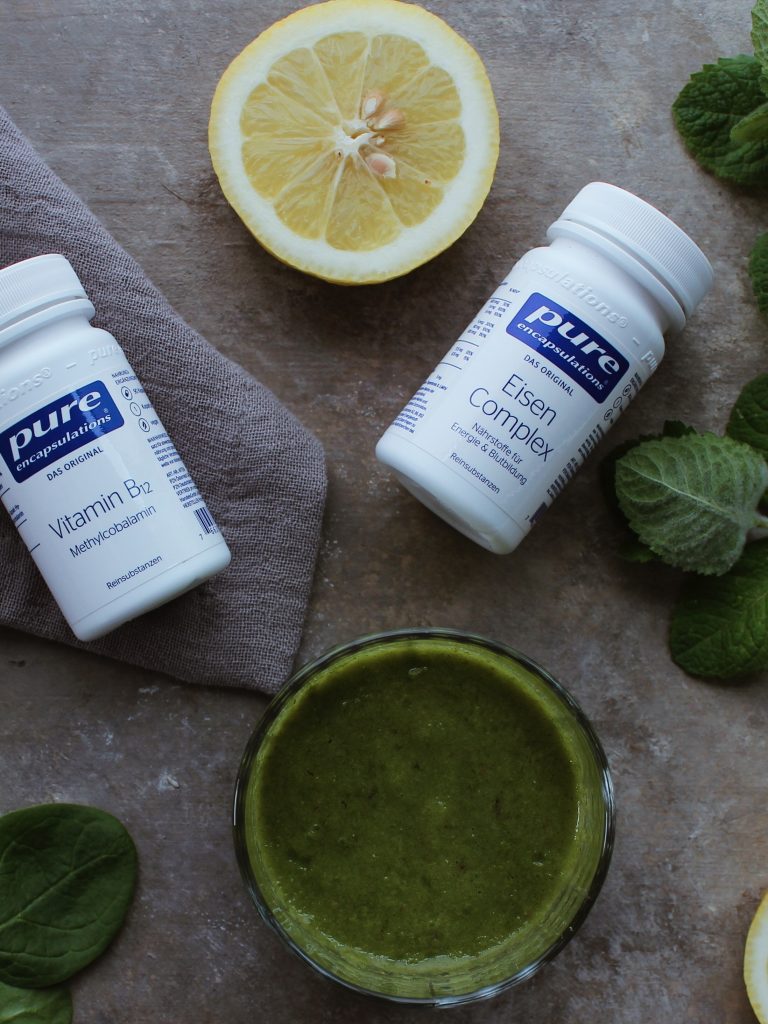 *English*
Starting fit into summer!
*in collaboration with Pure Encapsulations
End of May: The days are getting longer, the sun is shining and since a few weeks I exchange my running tights for shorts! Summer is coming soon, so why not start into the warmer season fit and full of energy?
The perfect time to regain some energy in training! A few tips on different training forms, routines and health can't hurt anyone.
If you're still not motivated enough, you might want to take a look at my motivation blog post first, so that you can start into the summer with the right mindset.
But in order to follow the training plan optimally, certain conditions must be given.
Girlpower
Besides the varied training and routines, which I will come back to later, it is very important to take care of your health. Your own body has to be in balance to achieve the best possible performance.
Training alone is not enough to be able to give 100%. Regeneration, which I have already written about here, or even nutrition (you can read more about my personal diet here) play an extremely important role in sports.
It is also crucial that the body is supplied with the best possible micronutrients. The "fuel" of our performance so to speak! The more intensive the workout and the more training is done, the more important it is to have an eye on your micronutrient balance. For years I take micronutrients from Pure Encapsulations and you can find some helpful tips on Vitamin D& Co here.
THE POWER-BOOSTER IRON
Iron plays a crucial role, especially for us women. On the one hand, iron is important for the immune system and energy metabolism, and on the other hand it plays a decisive role for athletes, especially fro those who are active in the area of endurance training. Iron is largely responsible for the formation of haemoglobin (the red blood pigment) and is thus involved in the transport and storage of oxygen. In other words, without sufficient iron, you cannot use 100% of your endurance capacity.
But iron is by no means only important for competitive athletes. A too low iron storage can quickly lead to tiredness, listlessness and premature fatigue. So no matter whether you are a hobby athlete, competitive athlete or workaholic, if you are active you should always keep an eye on your iron level.
I have been doing competitive sports for about 15 years now and I am always struggling with a suboptimal iron supply. Due to a lot of intensive trainings, I demand a lot from my body and therefore a larger amount of micronutrients is needed. In my case, a suboptimal iron supply has shown itself through unsatisfactory trainings or increased fatigue.
WHERE IS IRON CONTAINED AND HOW MUCH DOES MY BODY NEED?
Especially endurance athletes, young women and people in growth often have an increased need for iron. Also vegans and vegetarians should make sure that they have an adequate supply. Menstruation also causes an increased iron requirement for us women. Here you can find a great article about "Menstruation and sports". Women between the ages of 19 and 50 should consume about 15 mg and men 10 mg of iron per day. Iron cannot be produced by our body itself and must therefore be taken in with food.
IRON IN FOOD
The micronutrient is mainly found in meat and selected vegetable foods. Among the sources of iron are: Meat, green vegetables such as broccoli, spinach, kale, chard etc. but also lentils, chickpeas, nuts and unpeeled grains contain a lot of iron. However, iron can be better absorbed from animal products than from vegetable foods.
Nevertheless, many people consume too little iron in their diet in relation to their needs – which speaks for iron supplementation!
FOOD WHICH PROMOTES or INHIBITS the iron intake
There are also foods that can additionally promote or inhibit the iron absorption. I usually take my iron supplement on an empty stomach in the morning, if possible with a glass of lemon water (citrus fruits promote the absorption). Black tea, coffee and dairy products should be avoided directly after (or shortly before) the iron intake, as they inhibit the absorption. Currently I take a second capsule in the evening.
In addition to iron, vitamin B12 also has similar tasks to iron, as it also plays an important role in the formation of red blood cells and the supply of energy. In any case, a sufficient supply of iron and vitamin B12 should be ensured. I am also taking B12 not only because I'm vegan since the end of 2019.
BLOOD TESTS
For me, many factors are important in order to be able to achieve top performances. Therefore I try to make sure that the factors I can influence are all within the "green range". Just like physiotherapy, a blood test is a simply part of my routine check. I have my values checked about 2-3 times a year. Based on the results I then control my diet and micronutrient intake.
Diversified TRAINING
This may surprise some people, but the training of a female runner (especially a middle distance runner) is very diversified and of course I don't run the same 10km lap in Vienna every day.
Of course the running training plays a very important role, but there are also a lot of other different forms of training. Besides running, I often have strength training, coordination training with technique exercises and jumps and alternative sports are also on the agenda.
My main distance is the 800m and I will show you a bit of my training routine! Maybe you will find one or the other helpful tip which can bring a little more variety into your training.
Running TRAINING
Running the same 10km lap every day at the same pace is getting a bit boring in the long run, isn't it? For me at least! Have you ever thought about integrating a more varied running training into your program?
Besides 800m specific training on the track, I have a lot of interval training. Depending on your fitness level, you could try 1000m intervals. I often have 5-8x1000m intervals (with half of the training time rest), especially during preparation. I also have many 200m and 400m intervals.
It depends on what you train for and what your fitness level looks like, but at least you know that you can also try out interval training if you get bored by a normal run in the same pace all the time.
Besides, I usually have an 8-9km run once a week at a faster pace. If the run goes well and the average pace on the clock is right, it's a lot of fun to run with the flow! So why don't you try out different paces for your runs. Define speeds and control your training accordingly.
Have you ever heard of fartlek? This is a continuous run where you "play" with the speed. For example 1km easy, 3′ fast, 3km in a moderate tempo etc. Depending on your daily condition you can control the run very well and it is not as monotonous as a "normal" endurance run.
Of course it is also important to train the basic endurance or to do a very easy run to regenerate, but running can be very varied.
Weight TRAINING
Who thinks that you "only" have to run for the 800m is wrong. 😛 Weight training can give you the necessary speed and weight endurance for the 2 stadium rounds. I train in preparation 2 times a week with barbells. One time I have a strength endurance training and the other time a training with higher weights in the fast strength area. But to train with weights has to be practiced. If you are interested, I would strongly recommend you to learn the right technique before you start. In most fitness centers personal trainings are offered.
In addition, I also have strength training 2-4 times a week with my own body weight (10-20′ net time per unit).
Strength training is a great addition to running training and if you stay keep at it, you can achieve really great results and progress. Body weight training without breaks also has an endurance effect because you are constantly training with an increased pulse.
It's best to download a timer app, so you know exactly how effective you have really been doing strength exercises. Or you can do my YouTube videos, there is already a timer included. 😛 There I show you some of my favourite exercises!
ALTERNATIVE TRAINING
Especially at the beginning of the preparation I still have some alternative training units on the program. Cycling, stepping or aqua jogging are among my 3 main alternative trainings. In winter, cross-country skiing is sometimes included as well.
Especially if you want to protect your musculoskeletal system or if you are prone to injuries, alternative sports are very suitable. In addition, a 2-hour bike ride at the weekend with friends is fun and the pool can bring back some variety and motivation into the training routine.
ROUTINES
Besides varied training, certain routines also play an important role. I always find it very motivating when you can compare certain trainings from one week to the other and in the best case you can even see progress.
"The 5x1000m went much better this time than 2 weeks ago, or this time I was able to complete the body weight training without a break for the first time". This gives you an additional motivation boost for the future!
Of course, there are always changes in training and the training contents depend on the different periods (preparation or competition period). Nevertheless, there are fixed training modules that I have been training for years and which hardly change at all.
CONCLUSION
In conclusion, I can only advise you to keep an eye on your micronutrient levels. Because if you are highly motivated to achieve your athletic goals through varied training and routines, you should not run out of "fuel". Therefore, nothing can stop you to start fit into the summer!