*Werbung/ in Kooperation mit Suunto
In den letzten Wochen hat sich für uns alle das Leben rasant verändert. Auch ich selbst merke, dass mich die gesamte Situation immer wieder mal überfordert. Das ist denke ich auch ganz normal und darf auch sein. Dennoch versuche ich das beste daraus zu machen und merke wie wichtig es für mich ist, bestimmte Konstanten in meinem Leben zu haben, welche mir Halt geben!
Eine dieser Konstanten ist der Sport. Derzeit bin ich in Dänemark, aber auch in Österreich (oder Deutschland..) ist es weiterhin möglich seine Lauftrainings zu absolvieren. Ich kann weiterhin meine sportlichen Ziele verfolgen, trainiere nach Plan und habe dadurch eine gewisse Routine im Home Office bzw. in der Zeit die man zu Hause verbringt gefunden.
In den letzten Wochen durfte ich auch die neue Suunto 7 Smartwatch testen. Die Suunto 7 kombiniert den Sport mit dem Alltag und ist die erste Smartwatch in der Suunto Familie. Die Uhr funktioniert mit Wear OS, dem Smartwatch Betriebssystem von Google, hat natürlich einen hochqualitativen Touchscreen und die Herzfrequenz wird direkt über das Handgelenk gemessen.
Ich habe euch die Uhr schon bei Instagram vorgestellt und eure Fragen bezüglich der Uhr gesammelt. Auf diese werde ich jetzt eingehen damit ihr euch ein bestmögliches Bild über die Suunto 7 machen könnt. 🙂
Wem würdest du die Suunto 7 empfehlen und wie viel kostet die Uhr?
Ich würde die Suunto 7 aktiven Menschen empfehlen die auf der Suche nach einer Smartwatch mit umfangreichen Funktionen sind. Die Uhr kostet 479€.
Wie lange hält der Akku? Kann man zum Beispiel 2h Sport durchgehend aufzeichnen?
Im Smartwatch-Betrieb hält der Akku der Suunto 7 bis zu 48 Stunden und im GPS-Tracking-Modus bis zu 12 Stunden. Die tatsächliche Batterielaufzeit kann jedoch je nach den verwendeten Funktionen und Apps variieren. Auch die ausgeübten Sportarten können die Batterielaufzeit beeinflussen, da zum Beispiel Sportmodi mit GPS mehr Energie verbrauchen. Durch das Aktivieren des Energiesparmodus, kann man die Akkulaufzeit erheblich verlängern. Wie man die Batterielaufzeit noch optimieren kann, könnt ihr hier auf Seite 150 nachlesen.
Wenn die Uhr aufgeladen ist, ist es also gar kein Problem 2h Sport durchgehend aufzuzeichnen, da die Uhr wie schon erwähnt im GPS-Tracking-Modus bis zu 12 Stunden verwendet werden kann.
Wie misst die Uhr den Puls? Ist ein Brustgurt mit Bluetooth als Zusatz möglich?
Die Suunto 7 verwendet die Technologie der Herzfrequenzmessung am Handgelenk, bei der das Volumen des Blutflusses im Handgelenk durch LED-Sensoren gemessen wird. Dabei ist es wichtig darauf zu achten, dass die Uhr richtig angelegt wird und eng getragen wird, um eine bestmögliche Herzfrequenz-Aufzeichnung gewährleisten zu können. Die Suunto Wear App, also die App auf der Uhr wo man bis zu 70 verschiedene Sportmodi auswählen kann, unterstützt derzeit keine am Körper getragene Herzfrequenzgurte.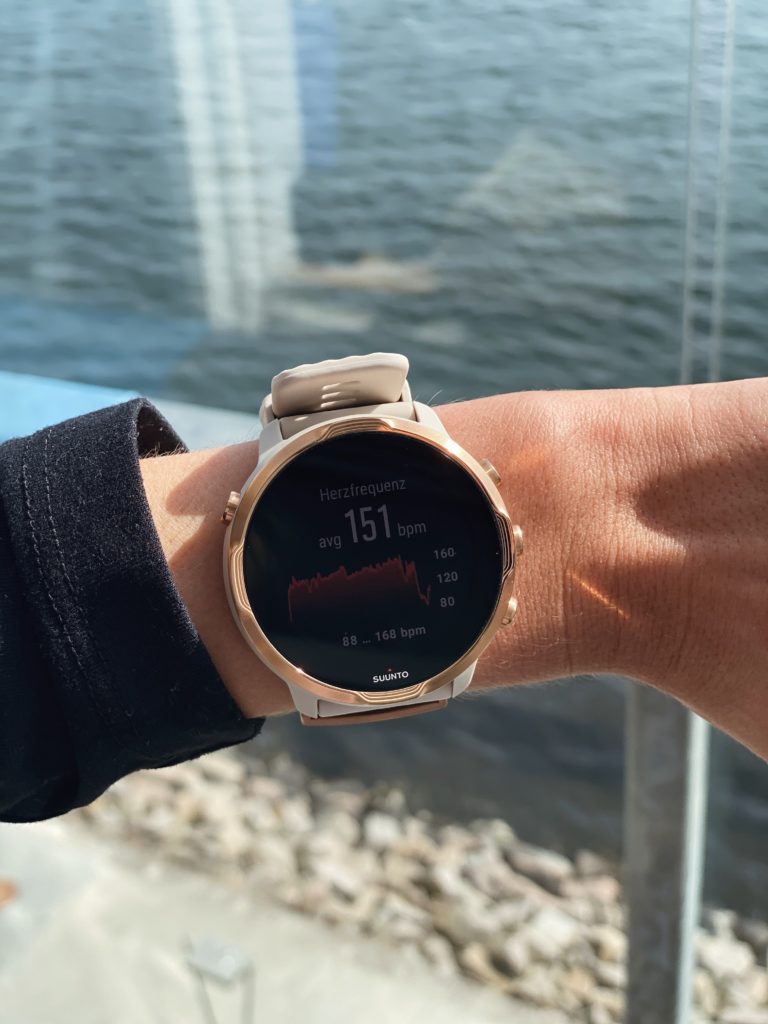 Welche Trainingsmodi gibt es? Kann man mit der Uhr auch schwimmen gehen und ist sie wasserdicht? Ist sie für TriathletInnen geeignet? Gibt es den Sportmodi Skitouren?
Mit mehr als 70 Sportmodi zeichnet die Uhr jedes Sporterlebnis auf und gibt in der Suunto App Auskunft über detaillierte Trainingserkenntnisse. Also egal ob Laufen, Tanzen, Skilanglauf, Indoor-Cycling, Zirkeltraining, Boxen, Turnen oder Crosstraining – für jede/n SportlerIn ist der passende Sportmodi integriert.
Ja, mit der Uhr kann man auch den Sportmodi "Schwimmen" verwenden. Darüber hinaus gibt es noch ganz viele weitere Wassersportarten. Die Uhr ist gegen Stöße, Schmutz und Wasser bis zu 50 Metern Tiefe geschützt.
Die Suunto 7 ist keine Multisportuhr, für TriathletInnen wäre daher sicherlich die Suunto Spartan geeigneter.
Ja den Sportmodi Skitouren gibt es auch. Neben Tourenskilauf bietet die Uhr folgende Wintersportarten: Alpinski, Telemarken, Eislaufen, Schneeschuhwandern, Snowboarden und Skilanglauf.
Kann man mit der Uhr Musik abspielen ohne das Handy dabei haben zu müssen?
Wenn man während des Trainings beginnt, Musik vom Telefon abzuspielen, kann die Mediensteuerung auf der Suunto 7 bedient werden.
Offline Musik hören, also wenn man zum Beispiel laufen geht ohne das Handy dabei zu haben, ist derzeit nur mit ausgewählten Musik-Streaming Anbietern möglich. Google Music unterstützt die Offline Nutzung und man benötigt dazu lediglich Bluetooth Kopfhörer. Spotify unterstützt die Offline Verwendung unter Wear OS derzeit leider nicht.
Wie funktionieren die Heatmaps genau? Zeigen sie an wie viele Menschen aktuell unterwegs sind?
Die sogenannten Heatmaps sind Karten, welche die beliebtesten Strecken anzeigen. Sie basieren auf Millionen von Trainings, welche von der Suunto-Community auf der ganzen Welt erkundet wurden. Es werden also nicht die aktuell frequentierten Strecken angezeigt, sondern immer wenn Trainings abgeschlossen sind, werden die Heatmaps laufend aktualisiert.
Zudem können die Suunto Karten bei 15 Aktivitäten auch im Offline-Modus verwendet werden und dabei helfen, immer den Weg zu finden und die besten Trainingsrouten zu erkennen.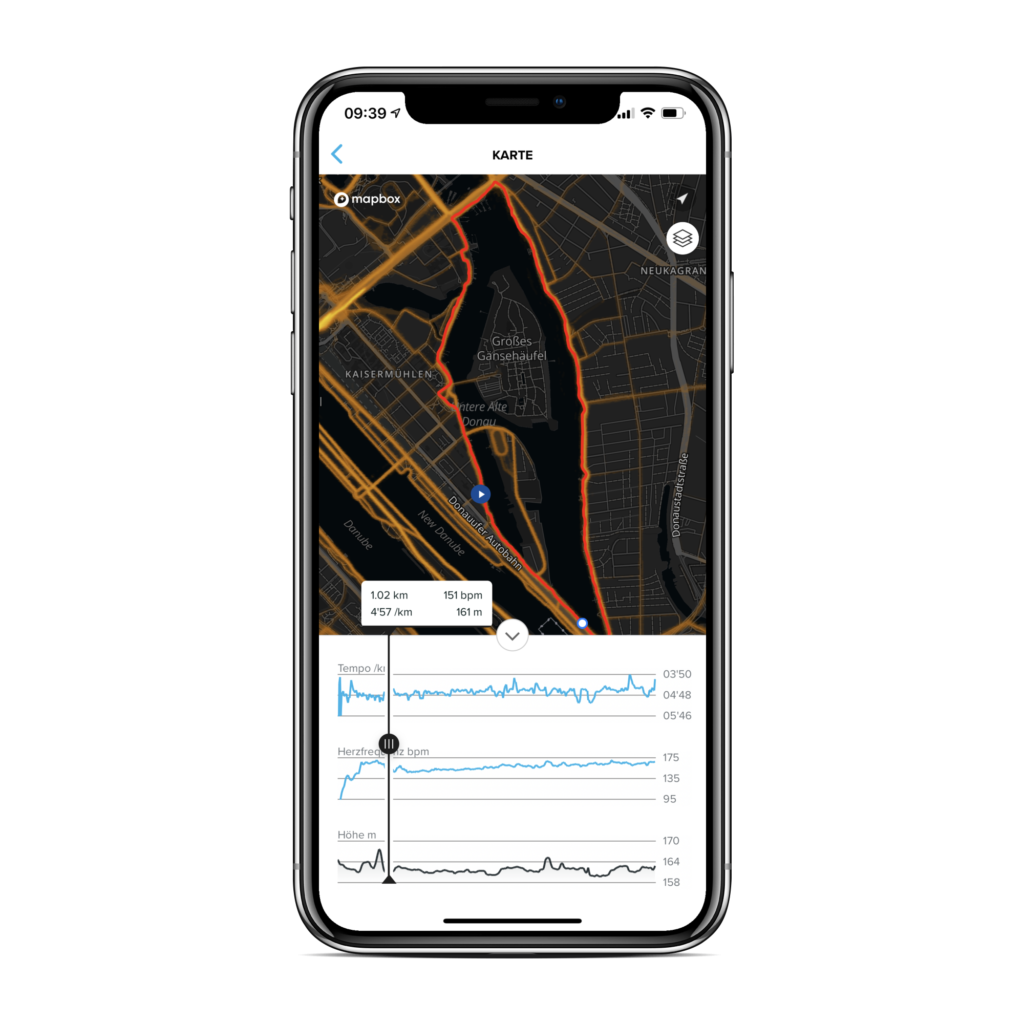 Werden beim Laufen auch die km/h angezeigt?
Je nach Sportmodi variieren natürlich auch die angezeigten Parameter, da diese sportartspezifisch angepasst werden. Ich habe noch nicht alle Sportarten getestet, aber wenn man zum Beispiel "Laufen – Basic" auswählt werden einem auf 3 verschiedenen Anzeigen, welche man ganz einfach mit dem Touchscreen wechseln kann, die Kilometerdistanz, die Herzfrequenz, die aktuelle Geschwindigkeit in min/km (bei mir steht 00'00 da ich das Training angehalten habe 😉 ), die Zeit, eine Landkarte sowie die Kilometer-Splits angezeigt.
Gibt es eine analoge Taste als Stoppuhr? Also kann man Runden (Laps) mit der Taste hinaus stoppen oder muss man dafür den Touchscreen verwenden?
Ja, die gibt es zum Glück! Gerade für LeichtathletInnen ist diese Funktion sehr wichtig, da die Bedienung über den Touchscreen für kurze Läufe sehr mühsam wäre. Man kann problemlos Intervall-Läufe mit der analogen Taste hinaus stoppen und sich die Rundenzeiten anzeigen lassen.
Kann man die Uhr mit dem iPhone verwenden? Was kann die Suunto App? Welche Smartwatch Funktionen gibt es?
Natürlich kann man die Uhr ganz einfach mit einem iOS sowie Android Smartphone verbinden. Wear OS ist das Betriebssystem für Smartwatches von Google und bietet umfangreiche Smartwatch-Funktionen.
Ich habe mir gleich die Suunto App sowie die Wear OS App von Google runtergeladen. Nach jedem abgeschlossenen Training wird die Einheit mit der Suunto App synchronisiert und man kann Einsicht in verschiedenste Trainingsdaten nehmen.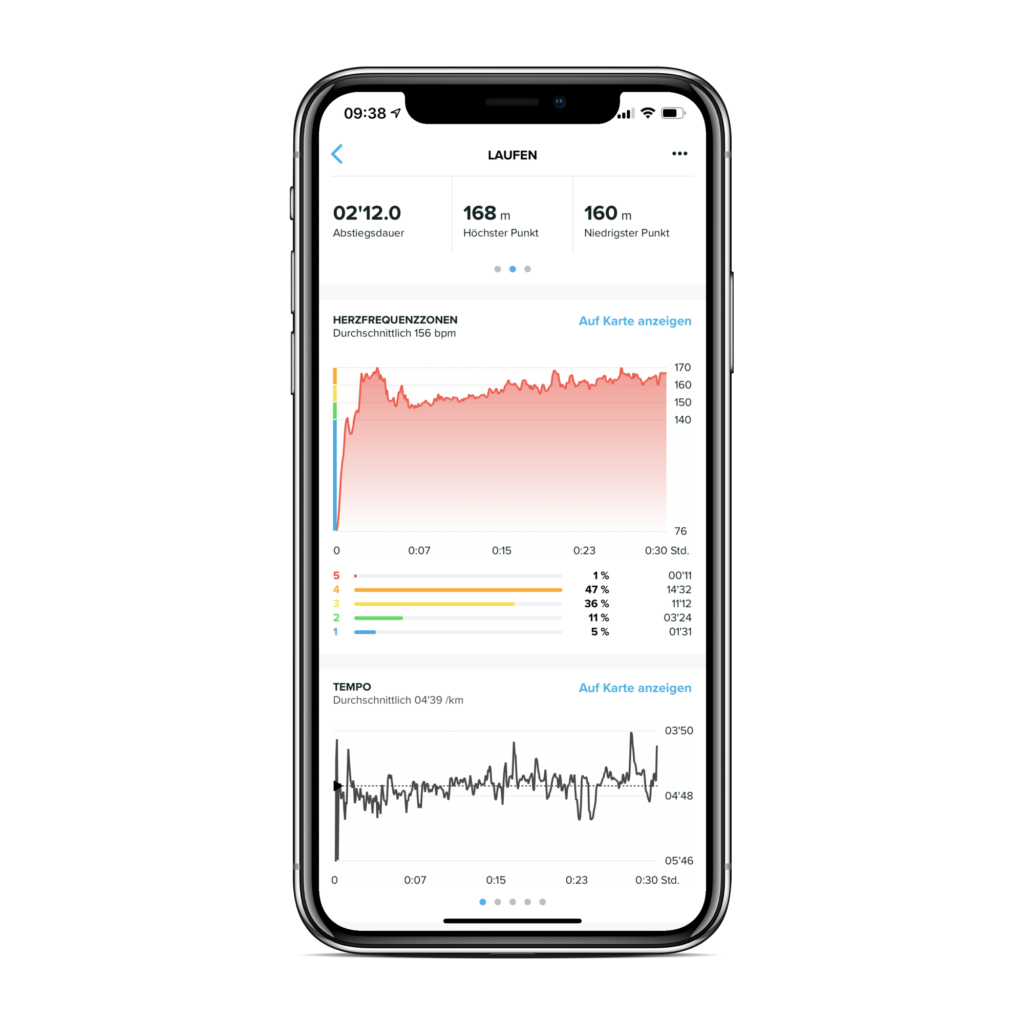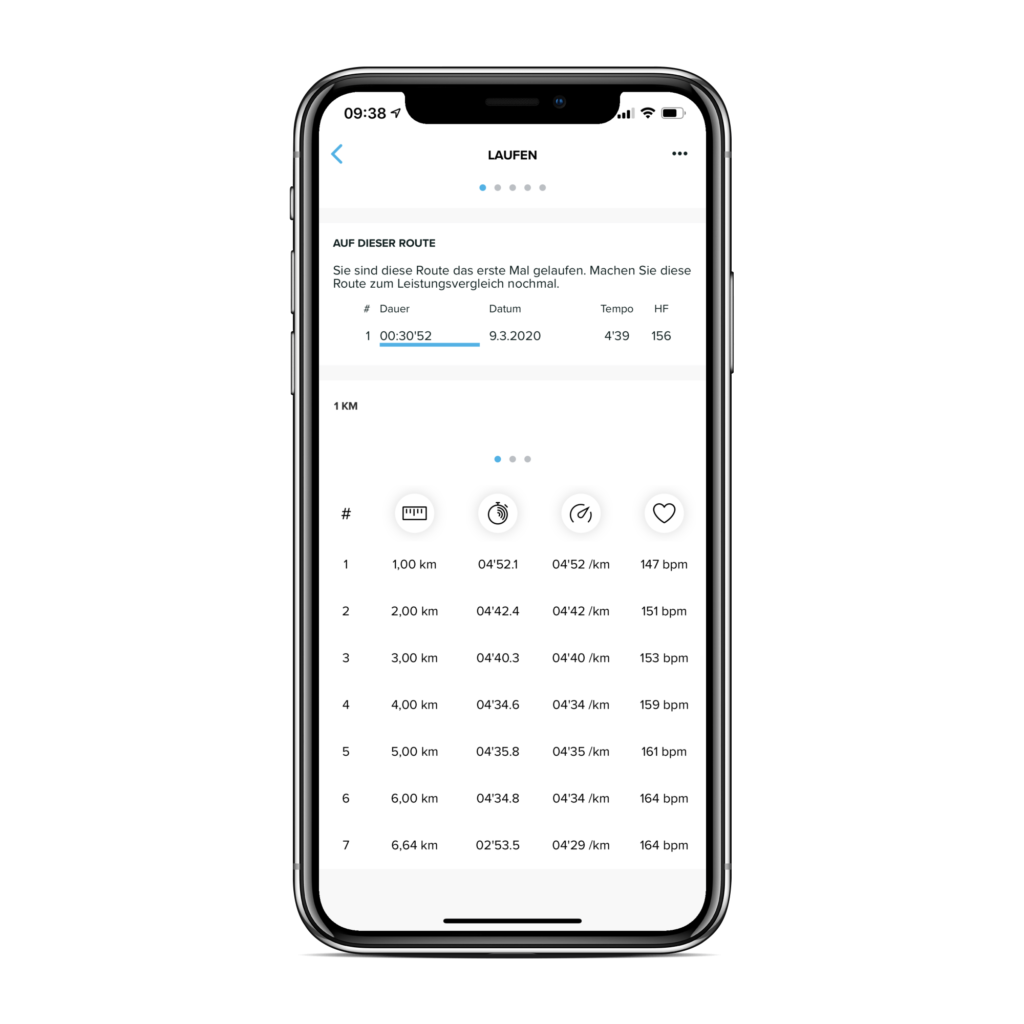 In der Wear OS App kann man ganz schnell die Zifferblätter der Uhr ändern, die Ansichten anpassen sowie einstellen, welche App-Benachrichtigungen man auf der Uhr erhalten möchte.
Ich finde es zum Beispiel sehr praktisch gleich Kalendereinträge, Mails und WhatsApp Benachrichtungen direkt auf die Uhr zu bekommen. Zudem kann man schnell mal nachsehen wie das Wetter wird, um das passende Sportoutfit auszuwählen. Alternativ kann man auch gleich den Google Assistent, also den Sprachassistenten, danach fragen.
Im Google Play Store kann man die verschiedensten Apps downloaden, um die Uhr nach den eigenen Wünschen zu personalisieren.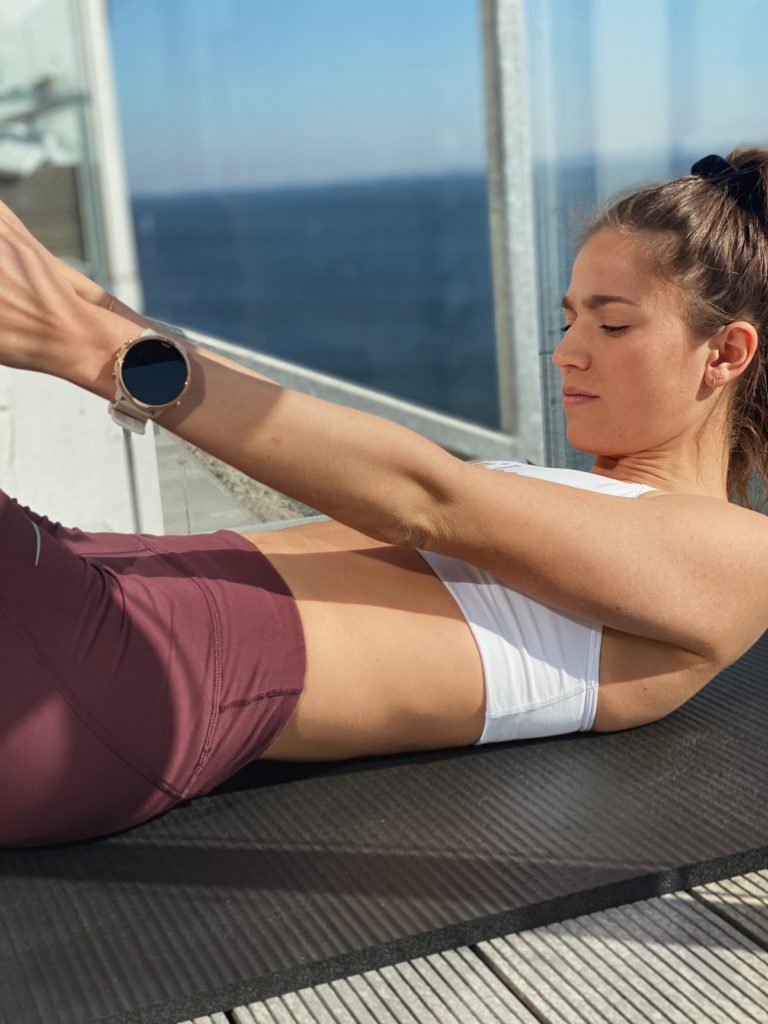 Zusammenfassend kann ich also wirklich sagen, dass die Uhr super für sportlich aktive Workaholics geeignet ist und sie vor allem durch das Design und ihre Smartwatch-Funktionen besticht. Wer also auf der Suche nach einer Smartwatch ist, bei der das Training nicht zu kurz kommen soll, dem kann ich die Uhr sehr empfehlen!
Falls du noch auf der Suche nach ein paar Tipps bist, wie man die Balance zwischen Arbeit, Sport und Alltag im Home Office am besten hält, dann würde ich mich freuen wenn du dir diesen Blogbeitrag anschaust.
______________________________________________________________________________
*English*
STAYING FIT IN HOME OFFICE WITH THE NEW SUUNTO 7
*Advertising/ in collaboration with Suunto
In the last few weeks life has changed rapidly for all of us. Even I have noticed that the whole situation overwhelms me from time to time. I think this is quite normal and it's okay not to be okay sometimes. Nevertheless, I try to make the best out of it and I realized how important it is for me to have certain constants in my life, which give me the stability I need!
One of these constants is sport. At the moment I am in Denmark, but also in Austria (or Germany..) it is still possible to go for a run outside. I can still pursue my goals, train according to plan and have thus found a certain routine in the home office and in the time spent at home.
During the last weeks I was also allowed to test the new Suunto 7 Smartwatch. The Suunto 7 combines sport with everyday life and is the first Smartwatch in the Suunto family. The watch works with Wear OS, the Smartwatch operating system from Google, has of course a high quality touchscreen and the heart rate is measured directly via the wrist.
I have already introduced the watch to you at Instagram and collected your questions regarding the watch. I will answer them now so that you can get the best possible picture of Suunto 7. 🙂
WHO WOULD YOU RECOMMEND SUUNTO 7 TO AND HOW MUCH DOES THE WATCH COST?
I would recommend Suunto 7 to active people who are looking for a smartwatch with a lot of functions. The watch costs 479€.
HOW LONG DOES THE BATTERY LAST? FOR EXAMPLE, CAN 2H OF SPORTS BE RECORDED CONTINUOUSLY?
In the Smartwatch mode the battery of the Suunto 7 lasts up to 48 hours and in GPS tracking mode up to 12 hours. However, actual battery life may vary depending on the features and apps you use. The type of sports you play can also affect battery life, for example, sports modes with GPS use more power. By activating the power saving mode, you can significantly increase battery life. You can read more about how to optimize the battery life on page 145.
When the watch is charged, it is no problem to record 2h of sports continuously, because the watch can be used for up to 12 hours in GPS tracking mode.
HOW DOES THE WATCH MEASURE THE Pulse? IS IT POSSIBLE to use A CHEST STRAP WITH BLUETOOTH additionally?
Suunto 7 uses a wrist heart rate measurement technology, which measures the volume of blood flow in the wrist using LED sensors. It is important to ensure that the watch is worn correctly and tightly to ensure the best possible heart rate recording. The Suunto Wear App, the app on the watch where you can select up to 70 different sport modes, does currently not support chest straps.
WHAT TRAINING MODES ARE AVAILABLE? CAN THE WATCH ALSO BE USED FOR SWIMMING AND IS IT WATER RESISTANT? IS IT SUITABLE FOR TRIATHLETES? is THERE a SPORT MODE FOR SKI TOURING?
With more than 70 sport modes, the watch records every sporting experience and provides detailed training information in the Suunto App. So no matter if running, dancing, cross-country skiing, indoor cycling, circuit training, boxing, gymnastics or cross-training – for every athlete the suitable sport mode is integrated.
Yes, with the watch you can also use the sport modes "swimming". In addition, there are many other water sports. The watch is protected against shocks, dirt and water up to a depth of 50 meters.
The Suunto 7 is not a multi-sport watch, so Suunto Spartan would certainly be more suitable for triathletes.
Yes, the sport mode ski touring is also available. Besides ski touring, the watch offers the following winter sports: alpine skiing, telemark skiing, ice skating, snowshoeing, snowboarding and cross-country skiing.
CAN YOU PLAY MUSIC WITH THE WATCH WITHOUT HAVING TO CARRY YOUR MOBILE PHONE WITH YOU?
If you start playing music from your phone during training, the media control can be operated on the Suunto 7.
Listening to music offline, for example when you go running without your mobile phone, is currently only possible with selected music streaming providers. Google Music supports offline use and you only need Bluetooth headphones with you. Unfortunately Spotify does not support offline use under Wear OS at the moment.
HOW DO THE HEATMAPS WORK EXACTLY? DO THEY SHOW HOW MANY PEOPLE ARE CURRENTLY ON THE ROAD?
The so-called heatmaps are maps that show the most popular routes. The so-called heat maps are maps that show the most popular routes. They are based on millions of workouts explored by the Suunto community around the world. They do not show the routes that are currently used, but they are constantly updated as training sessions are completed.
In addition, Suunto maps can also be used in offline mode for 15 activities, helping you always find your way and identify the best training routes.
ARE THE KM/H ALSO DISPLAYED WHEN RUNNING?
Depending on the sport mode, the displayed parameters will of course also vary, as these are adapted to the specific sport. I haven't tested all sports yet, but if you select for example "Running – Basic" you will be shown 3 different displays, which you can easily change with the touchscreen, the kilometer distance, the heart rate, the current speed in min/km (I have 00'00 because I stopped the training 😉 ), the time, a map and the kilometer splits.
IS THERE AN ANALOGUE BUTTON AS STOPWATCH? SO YOU CAN STOP LAPS WITH THE BUTTON OR DO YOU HAVE TO USE THE TOUCHSCREEN?
Yes, fortunately there is one! Especially for track and field athletes this function is very important, because the operation via touchscreen would be very annoying for short runs. You can easily stop interval runs with the analogue button and have the lap times displayed.
CAN THE WATCH BE USED WITH THE IPHONE? WHAT CAN THE SUUNTO APP DO? WHICH SMARTWATCH FUNCTIONS ARE AVAILABLE?
Of course you can easily connect the watch to an iOS and Android smartphone. Wear OS is the operating system for Smartwatches from Google and offers a lot of Smartwatch functions.
I immediately downloaded the Suunto App and the Wear OS App from Google. After each completed training session, the training session is synchronized with the Suunto app and you can view various training data.
In the Wear OS app you can quickly change the watch dials, adjust what is displayed and set which app notifications you want to receive on your watch.
For example, I find it very convenient to get calendar entries, mails and WhatsApp notifications directly on the watch. You can also quickly check the weather in order to choose the right sports outfit. Alternatively you can also ask the Google Assistant, the language assistant, for it.
In the Google Play Store you can download various apps to personalize your watch according to your needs.
In summary, I can really say that the watch is super suitable for sporty workaholics and that it impresses with its design and Smartwatch functions. So if you are looking for a Smartwatch where you don't want to miss out on your workout, I can highly recommend this watch!
If you are still looking for a few tips on how to best balance work, sports and everyday life in the home office, then I would be happy if you take a look at this blog post.